Northern Irish rider 'lucky' to land on barbed wire fence after being 'forced off the road' by driver
Xeno Young suffers cuts and bruises five days after returning from Commonwealth Games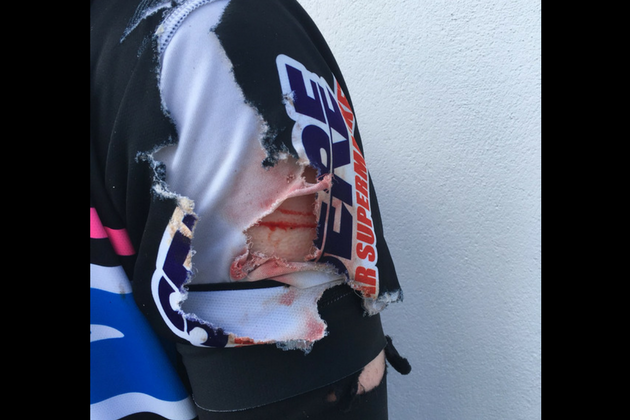 A Northern Irish rider has described himself as "lucky" for landing on a barbed wire fence after he was knocked off his bike less than a week after returning from competing in the Commonwealth Games.
Xeno Young was training on Monday when he was involved in a collision with a car, writing on Instagram that he had been knocked off his bike and into a barbed wire fence.
"Forced off the road and into a field by a careless driver pulling out of his driveway today," Young wrote. "This isn't the first time I've been hit by a car and the sad reality of it is that it probably won't be last.
>>> Cyclist thanks phone in back pocket for preventing serious spinal injury in crash with bus
"I'm lucky this time that I only landed through a barbed wire fence, the news could've been much worse had it been anything else. I just can't believe that this stuff still goes on."
18-year-old Young had competed in the time trial, road race, and track events at the Commonwealth Games in Australia earlier in April, and was in the middle of a 110-mile training ride when the collision occurred.
Young suffered cuts and bruises to his shoulder, arm, and ankle, but his father said that the psychological damage could prove more serious in the long term.
"He has pretty serious bruising and scratches on his arm and shoulder. His ankle and shoulder are swollen," Garth Young told the Belfast Live. "He's quite shaken still. Even if he was fit to go out on his bike today, he doesn't want to.
"This is a big setback for him at a critical point in his cycling career. His training to date was based around a good performance at the Commonwealth Games and he achieved that with a personal best time in the individual pursuit on the track with an exceptional time for an 18-year-old.
>>> Police trace hit-and-run driver who left cyclist with serious injuries in Berkshire
"This weekend he started his build up for a season of road racing but that came to an abrupt end on Sunday morning. He's only 18 and loves riding his bike but doesn't want to go back out on the road at the minute."
A member of the Powerhouse Sport team, Young had won silver medals on the track in the junior World and European Championships. His 2018 season had been scheduled to include major Irish stage races including the Rás and Tour of Ulster.