Paris-Nice diary: Sky's biggest challenge
Anarchic nature of this year's Paris-Nice route means that Sky will have a tough job controlling the race lead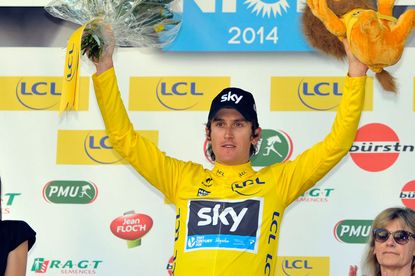 (Image credit: Graham Watson)
Another stage race, another Sky rider in the yellow jersey.
Geraint Thomas only became Plan A for the British team at Paris-Nice on the eve of the race, when Richie Porte was pulled out and swapped in for the injured Chris Froome at Tirreno-Adriatico. But this might well turn out to be as smart a tactical move as the one which moved Thomas clear of a fragmented and disorganised peloton over Mont Brouilly in yesterday's third stage to Belleville.
With no time trial, and no major summit finish, the structure and character of the race may well suit the Welshman better than it would have done Porte. While Porte, as defending champion, would have been team leader, the unpredictable nature of the terrain and the necessity to go for time bonuses wouldn't have suited his diesel-like abilities. Thomas is more of a racer, and this is turning into a racers' race.
However, defending Thomas's lead is going to be exceptionally difficult. In the short term, the Welshman has acknowledged that John Degenkolb will probably win enough bonus seconds today to take back the jersey, for a day at least. But in the long term, Sky have to manage a situation where there are still 20 riders within 20 seconds of Thomas.
Among these 20 riders, there are sprinters like Jose Joaquin Rojas, who can still hope to take time bonuses, climbers and Grand Tour specialists like Vincenzo Nibali and Jakob Fuglsang, who can hope to drop Thomas on the hills, and all-rounders like Tom Jelte Slagter, who is climbing as well as Thomas, and can beat him in a sprint.
Sky are going to have their work cut out defending this lead, and they don't have the crutch of a final time trial (which would probably favour Thomas). The British team are famed for being able to control the controllables, but this year's Paris-Nice route looks about as uncontrollable as racing gets. At the Tour de France, they've gone in with the best rider two years running, dominated the time trials and mountains, and defended solidly. But remember the 2013 Giro d'Italia, where Bradley Wiggins was mercilessly, relentlessly attacked in the hilly stages of the opening week, before the mountains and time trials even gave him a chance. Paris-Nice might be held in France, but in nature it shares a lot of the anarchy of the Giro d'Italia. This is Sky's toughest challenge yet.
Sky's performance manager Rod Ellingworth told Cycling Weekly that Friday's uphill finish in Fayence will be the key. It's only two kilometres long, but is steep and narrow, with a tricky set of hairpins towards the finish, which will make both aggression and positioning important. Thomas has already been to look at the climb.
"He knows the climb, he knows the gearing he's going to use and he knows how he is going to ride it," said Ellingworth. "He's confident and he's going to take it on. He always races full on."
Thomas believes that he will have to combine defence and attack in Fayence. "I'll be defending my position against people like Nibali, Rui Costa and Betancur. But at the same time I'll be trying to gain a bit of time on Slagter, because he can pick up bonus seconds on me later in the race."
At the halfway point of Paris-Nice, Thomas holds the lead, and Team Sky are readying themselves to try and cement that lead in the Fayence stage, then defending on the two very hard hilly weekend stages. The only question is whether they are going to be adhering to the Queensberry Rules in what is likely to descend into a pub brawl.
Geraint Thomas (Sky) has moved into the overall lead at Paris-Nice after finishing second on the fourth stage to Dutchman
Thank you for reading 20 articles this month* Join now for unlimited access
Enjoy your first month for just £1 / $1 / €1
*Read 5 free articles per month without a subscription
Join now for unlimited access
Try first month for just £1 / $1 / €1