Paul Oldham and Christina Wiejak win 2017 Three Peaks Cyclocross titles (gallery)
Annual race in the Yorkshire Dales sees hundreds of riders tackle a gruelling route - All photos by Andy Jones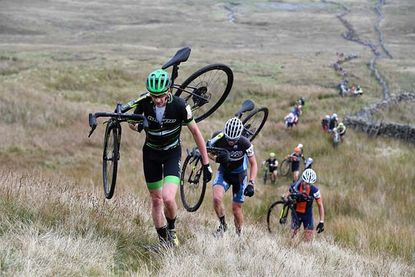 (Image credit: Andy Jones)
Paul Oldham (Hope Factory Racing) claimed his third consecutive victory in the annual Three Peaks Cyclocross race in Yorkshire on Sunday. Christina Wiejak (Barrow Central Wheelers) finished the race as top-placed woman.
The event takes in the ascent and descent of a trio of gruelling climbs in the Yorkshire Dales: Ingleborough, Whernside and Pen-y-ghent.
Oldham came home three and a half minutes ahead of second-placed David Mirfield (unattached) with Alexander Forrester (zepnat.com) in third.
Eleven-time Three Peaks winner Rob Jebb (Hope Factory Racing) had led the race up Simon Fell, but he crashed on the descent of Whernside. Although he completed the descent, he withdrew and was taken to hospital with suspected concussion.
Nick Craig (Scott UK) continued his participation in the race with a seventh place – having first won the event back in 1991. Another former winner and Three Peaks veteran, Tim Gould (zepnat.com) finished in 16th spot. Gould was the first over-50s veteran to arrive home, having won the race six times consecutively between 1984 and 1989.
Wiejak took the women's crown ahead of Sarah Barber (North Hampshire RC), with Verity Appleyard (Brothertons Cycles) as third-placed woman.
The Three Peaks Cyclocross was first officially run in 1961.
Result
Three Peaks Cyclocross 2017, men
1. Paul Oldham (Hope Factory Racing), in 3-06-16
2. David Mirfield (Unattached), at 3-29
3. Alexander Forrester (zepnat.com), at 4-09
4. Adrian Lansley (Pedalon), at 6-14
5. Gary Macdonald (Hope Factory Racing), at 6-31
6. Giles Drake (Leisure Lakes Bikes), at 7-47
7. Nick Craig (Scott UK), at 9-03
8. Jonathan Pugh (The Bulls), at 9-21
9. Ben Bardsley (Cyclewise Altura), at 13-14
10. Thomas Zahnd (Unattached), at 14-09
Women
1. Christina Wiejak (Barrow Central Wheelers), in 4-05-44
2. Sarah Barber (North Hampshire RC), at 1-12
3. Verity Appleyard (Brothertons Cycles), at 9-06
4. Helen Jackson (Kendal CC), at 9-07
5. Hannah Saville (Cyclocrossrider.com), at 16-52
6. Karen Poole (Sportstest RT), at 24-30
7. Ruth Gamwell (Macclesfield Wheelers), at 26-23
8. Hannah Benson (Ilkley CC), at 27-41
9. Adeline Moreau (The 5th Floor), at 28-37
10. Clare Dallimore (Cardiff Ajax), at 29-15
Thank you for reading 20 articles this month* Join now for unlimited access
Enjoy your first month for just £1 / $1 / €1
*Read 5 free articles per month without a subscription
Join now for unlimited access
Try first month for just £1 / $1 / €1