Pendleton and Reade take silver in team sprint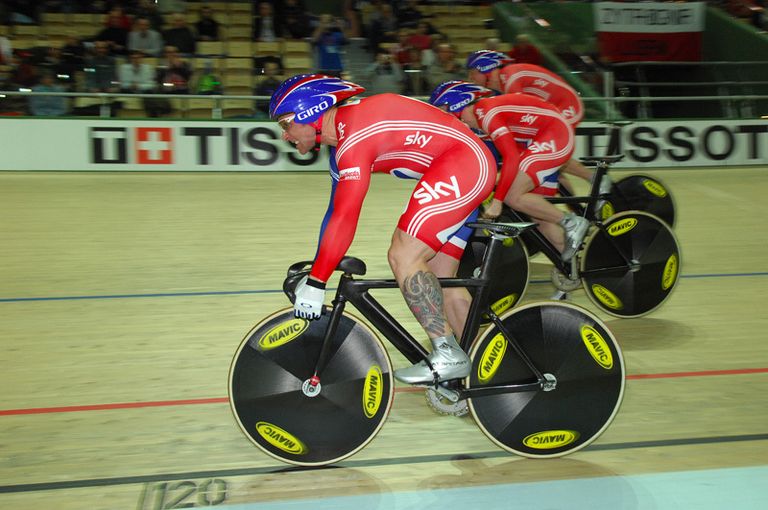 The Hub - Home for all CW's track worlds coverage
Thursday's live coverage>>>
Victoria Pendleton?s and Shanaze Reade?s short but very successful run in the women?s team sprint came to an end tonight as they were beaten to the world title for the first time in the events history.
Having won the title in 2007 and 2008 they had to make do with silver in Poland as GB?s wait for their first gold medal was stretched out a little longer.
"To beat the Australian team we needed an extra tenth of a second compared with the qualifying round, and we had that," Pendleton said afterwards. The only problem was they found another tenth too."
Pendleton still has two golds to go for this week, but she's not going to walk away with the titles as she has done in the last two years. "[I'm] obviously disappointed, but at the end of the day Oz did better and that?s what sport's about."
It was a fifth medal for the British team, and a closer look at the times suggests Pendleton will face a tough challenge from Simona Krupeckaite in the individual sprint competition tomorrow.
Pendleton posted a second lap of 14.185 seconds, a quarter of a second faster than Anna Meares, but the same margin down on Krupeckaite who took bronze with Gintare Gaivenyte. The Lithuanian was no match for Pendleton in the Olympics last year, but she seems to be in much better form here having already broken the world record in the 500m time trial.
Qualifying for the women's sprint starts tomorrow as Pendleton looks to make it three world titles in a row. To do this she'll be as reliant on her tactics as she will be on her famous leg speed.
Results: Women's team sprint
1. Australia 33.149
2. Great Britain 33.380
3. Lithuania 33.495
4. France 33.638
Qualifying
1. Australia (Kaarle McCulloch, Anna Meares) 33.452
2. Great Britain (Shanaze Reade, Victoria Pendleton) 33.598
3. France (Sandie Clair, Clara Sanchez) 33.609
4. Lithuania (Gintare Gaivenyte, Simon Krupeckaite) 33.617
5. Netherlands (Yvonne Hijgenaar, Willy Kanis) 33.791
6. Germany (Kristina Vogel, Miriam Welte) 33.922
7. China (Jinjie Gong, Lulu Zheng) 34.475
8. Russia (Swetlana Grankovskaya, Olga Streltsova) 34.733
9. Poland (Renata Dabrowska, Aleksandra Drejgier) 35.095
10. Honk Kong (Wai see Lee, Zhao Juan Meng) 36.418
2009 UCI TRACK CYCLING WORLD CHAMPIONSHIPS
Follow Cycling Weekly on Twitter>>
RACE REPORTS
The CW Hub: Track World Championships index
Women's team pursuit: Britain clinch gold
women's team sprint: Reade and Pendleton score silver
Men's scratch race: Cavendish marked out of contention
Men's individual pursuit: Phinney wins gold
Men's team sprint: France beat Britain
Men's Points Race: Newton gets bronze
Women's individual pursuit: Houvenaghel beaten to silver
500m TT: World record for Krupeckaite, bronze for Pendleton
NEWS AND FEATURES
Track worlds day one: steady start for team GB
Why there's no Brit in the individual pursuit
No individual pursuit for Britain at track worlds
No room for complacency in British Cycling: Iain Dyer interviewCavendish in the frame for Scratch race world title bid
2009 Track Cycling World Championships preview
Crampton set to fill Sir Chris Hoy's team sprint spot
2009 World Track Champs GB squad named
Hoy to miss world track champs
Track World Championships: British medal winners
CW's Dummies' Guide to Track Racing
PHOTOS
GB RIDER PROFILES
Men
Jonathan Bellis
Steven Burke
Mark Cavendish
Ed Clancy
Matt Crampton
David Daniell
Ross Edgar
Jason Kenny
Chris Newton
Jamie Staff
Women
Lizzie Armitstead
Wendy Houvenaghel
Victoria Pendleton
Shanaze Reade
Joanna Rowsell
Jessica Varnish
RECENT RESULTS
International track results last season: 2007-2008
International track results this season: 2008-2009
2008 TRACK WORLD CHAMPIONSHIPS LINKS
Full results from the 2008 track worlds
Report: Sunday, day five>>
Report: Saturday, day four>>
Report: Friday, day three>>
Report: Thursday, day two>>
Report: Wednesday, day one>>
EXTERNAL LINKS
Track Cycling World Championships 2009 official website