PENDLETON BOUNCES BACK TO WIN KEIRIN GOLD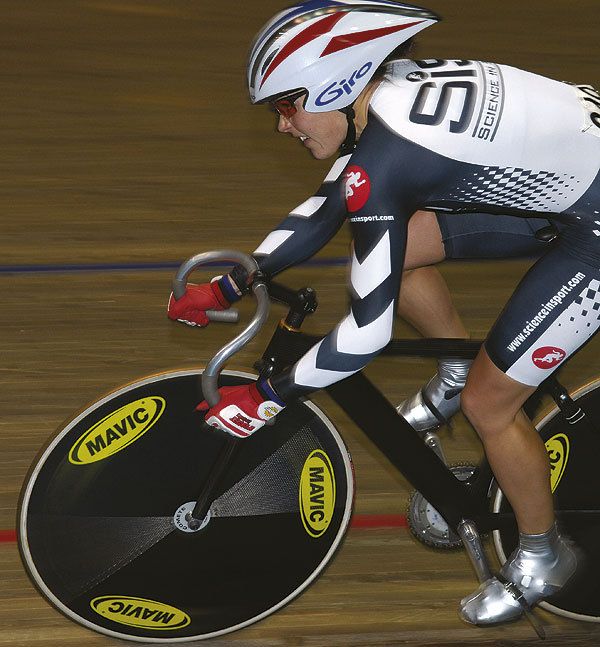 Victoria Pendleton bounced back from the disappointment of going out at the quarter-final stage of the sprint by winning the Keirin on the final night of the Sydney World Cup.
David Brailsford said: ?Expectations are so high for her so on paper a quarter-final defeat was probably a bit disappointing but she?s only in the early stages of her preparation. There?s no point being on fire now when the World Championships are at the end of March.
?We pulled her out of the 500 metres because she?s been feeling a bit under the weather. For her to bounce back for the Keirin was superb. She had an off-day in the sprint but rode really, really well throughout the Keirin. Tactically she was excellent.?
Britain?s other medal on the third night of competition was Chris Hoy?s bronze in the men?s sprint, to add to his Keirin gold.
?Chris Hoy. What a champion. Fantastic,? was Brailsford?s verdict. ?The French are very strong but Chris was in there fighting and he came out with a bronze, which is a great result.?
Expectations for the Sydney World Cup were high and after a slow first night, the British riders started to impose themselves over the weekend.
?The big thing was to get points on the board. In events where we couldn?t win, the emphasis was not to sit up and take it easy but to hit it hard and get the best possible result because the points are so crucial for Olympic qualification,? said Brailsford.
?When you look at the Olympic events we?ve come out of it pretty well. From a points-scoring point of view we?ve hit our targets. The aim was to do a professional job with the from we have.?
As soon as the squad arrived back at their hotel, bags were packed ready for an 11-hour flight on to Beijing early on Monday morning.
?It?s further from here [Sydney] to Beijing than it is from London to Beijing, so we want to fly out as soon as possible and have the maximum time to get ready for Beijing. We?ve got an even stronger team for Beijing and there?ll be a bit of swapping around,? added Brailsford.
The squad will be strengthened ? with Jason Queally, Craig MacLean and Jamie Staff flying out from England, and Paul Manning, Geraint Thomas and Rob Hayles travelling from Perth where they?ve enjoyed an extended training camp.
BRITAIN?S FINAL MEDAL COUNT 3 Golds, 1 Silver, 1 Bronze
SUNDAY?S ACTION

WOMEN?S TEAM PURSUIT
Gold Russia (Romanyuta, Slyusareva, Chulkova)
Silver Australia (Goss, Mactier, Tomic)
Bronze Ukraine (Galuk, Kalitovska, Shuluka)
The first competitive women?s team pursuit, raced over 3,000 metres with three riders, went to the Russians, and it was an event Brailsford watched keenly. ?We will be aiming to put a team in this event for the World Championships in Manchester so it was interesting to see who the strong teams were. There were no surprises but I?m looking forward to seeing how we do in this. Like the women?s team sprint, we?ll have a team at the Worlds.?
WOMEN?S KEIRIN
Gold Victoria Pendleton (Science In Sport)
Silver Jennie Reed (MOM)
Bronze Natallia Tsylinskaya (Belarus)
The Brits
In the first round Victoria Pendleton (Science in Sport) qualified in second place behind Lithuania?s Simona Krupeckaite. Anna Blyth (Great Britain) was fourth in her race but got through to round two by winning her repechage. In the second round Pendleton and Blyth were in the same race. Pendleton reached the final by finishing third, Blyth was sixth in that race and was ranked 10th after the final for seventh to 12th places.
In the final Pendleton rode a perfect race, settling in behind the Derny, waiting patiently for others to move, then jumping from third place and taking the sprint comfortably.
MEN?S SPRINT
Gold Mikael Bourgain (Cofidis)
Silver Kevin Sireau (Cofidis)
Bronze Chris Hoy (Great Britain)
The Brits
In a huge competition of 67 riders, Chris Hoy qualified fastest with a 200m time of 10.179 seconds. Ross Edgar and Jason Kenny narrowly missed out on the quarter-finals, finishing in ninth and tenth places respectively. Instead they were placed in the ?B? competition for riders who finished between ninth and 16th in qualifying. In the ?B? quarter-finals, Edgar beat Michael Seidenbecher of Germany while Jason Kenny got the better of Holland?s Teun Mulder. An all-British ?B? final was on the cards when Edgar beat Roberto Chiappa (Italy) only for Stefan Nimke (Germany) to defeat Jason Kenny.
In the quarter-finals of the main competition, Hoy made light work of Australia?s Shane Perkins, winning 2-0. However, he was beaten in consecutive races by Kevin Sireau of Cofidis, who went on to lose to his team-mate Mickael Bourgain in the final. That left Hoy to race another Frenchman, Gregory Bauge, for bronze. Hoy won 2-0.
MADISON
Gold Peter Schep & Jens Mouris (Netherlands)
Silver Juan Llaneras & Carlos Torrent (Spain)
Bronze Michael Morkov & Alex Rasmussen (Denmark)
The Brits
Mark Cavendish and Bradley Wiggins (Great Britain) squeezed through to the final in ninth place in their heat. Ben Swift and Jonny Bellis (Team 100% ME) were fourth in their heat. The competition in the final was immense, and neither British team made a great impact. ?It was a very tough race. Cav is a little off his best at the moment so it was a good result for them to make the final and it has given them some really important track time as a partnership,? said Brailsford. ?We?ll see what they can do in Beijing.?
CW'S TRACK WORLD CUP COVERAGE
Pendleton bounces back to win Keirin gold
Sydney World Cup night 2: Hoy and Edgar complete 1-2
British quartet make Brown eat his words
Brown teases British team pursuiters before Sydney showdown
Pendleton pulls out of 500m
Sydney World Cup night 1: no medals yet
The Big Preview: Tonight at the Dunc Gray track
CW's Dummies' Guide to track cycling