Pendleton kicks off her triple crown campaign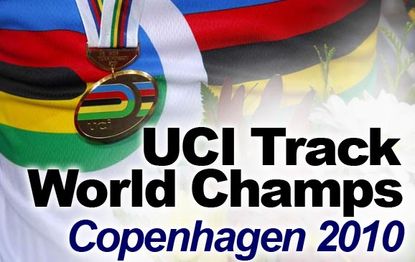 >>>2010 world track championships: CW's Coverage index
Of all the track riders who were set to profit from the change in the Olympic track programme, Victoria Pendleton was at the top of the tree.
As the stand out female sprinter of the last three years, the Brit looked set to reap the rewards when the IOC announced the team sprint and keirin would be brought in to the women's schedule at the London Olympics.
But on the evidence of today, Pendleton isn't going to have it her all own way. In the first of those three events, the team sprint, the six-time world champ had to settle for fourth place, and watch while the Australian duo of Anna Meares and Kaarle McCulloch twice broke the world record on their way to gold.
Riding with 19-year-old Jessica Varnish, Pendleton was pipped to the bronze medal by the Lithuanian pair by four tenths of a second. China took the silver medal.
But with Shanaze Reade (with whom Pendleton has won this title twice before) absent, Pendleton said she was satisfied with the ride. "That's the second team sprint we've done in competition, and the first on the world circuit," she said after her ride. "We know we're in the mix, we're not far off the mark."
Pendleton's new focus of three Olympic titles will apparently make little difference to her training. "It's all pretty much the same anyway," she said. "I've just got to practice on maintaining form over a longer period. I've won three world titles over a world championships so I know it can be done, but it is a skill. But i've got the best person to learn off in Chris [Hoy]."
"It's mainly mentally more than anything, in terms of switching off when you need to and then switching on again, rather than wasting energy worrying about preparation for the event of psyching yourself up."
Pendleton's campaign continues on Saturday with the women's sprint competition.
2010 Track World Champs: Reports/results
Day two: Thursday, March 25
Day two: Hoy takes Britain's first gold but Australian march on2010 Track World Championships: Results
Day two as it happened (text coverage): Thursday, March 25
Day one: Wednesday, March 24
Day one: Meyer and Meares put Aussies on top of the world
2010 Track World Championships: Results
Day one as it happened (text coverage): Wednesday, March 24
Houvenaghel qualifies second fastest in pursuit
2010 Track World Champs: Photos
Day two gallery by Andy Jones
Day one gallery by Andy Jones
2010 Track World Champs: News and features
Pendleton kicks off her triple crown campaign
Matt White talks about Aussie track sensation Cameron Meyer
Sir Chris Hoy has 10th world title in his sights
Who's riding which event for Great Britain at the Copenhagen Worlds
The Big Interview: Jason Queally
Queally's comeback signals new phase in team pursuiting
Queally named in GB's track worlds squad
Queally in the frame for Worlds team pursuit call-up
Omnium at this year's Worlds will not be new Olympic format
Track cycling: Information
International track results 2009-10
International track results 2008-09
International track results 2007-08
CW's Dummies Guide to... Track Racing
Cycling Weekly Rider Profiles: Index
Thank you for reading 5 articles this month* Join now for unlimited access
Enjoy your first month for just £1 / $1 / €1
*Read 5 free articles per month without a subscription
Join now for unlimited access
Try first month for just £1 / $1 / €1