Perfectly-timed Revolution sprint photo goes viral
Picture of Matt Rotherham being pushed off by Mark Barry tweeted by 'Jackass' star Johnny Knoxville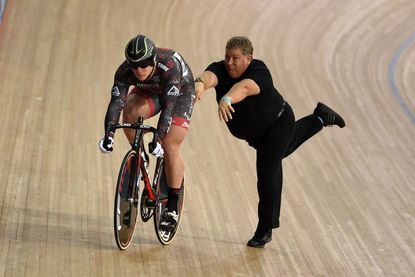 (Image credit: Andy Jones)
A photograph of sprinter Matt Rotherham being pushed off by Mark Barry at the recent Revolution Track Series round in London has become an internet hit.
Cycling Weekly photographer Andy Jones captured the split second that Barry gave Rotherham a shove to get him started in the sprint, and was picked up by American television and film star Johnny Knoxville, who broadcast it to his 1.74 million followers on Twitter.
"Sometimes when you're really hung over don't you wish you had this guy to push you out of bed," wrote Knoxville.
Knoxville is best known for his role in cult TV series Jackass, in which Knoxville and friends undertook stunts and pranks that usually resulted in some kind of injury. After the show ended, Knoxville turned his hand to acting and appeared in the movies including The Dukes of Hazzard and Men in Black II.
Knoxville's tweet was quickly spotted by several riders, and Barry himself who replied "Just gimme a call Johnny, here for you pal!"
Barry represented Great Britain in the sprint and kilo time trial at the 1984 Olympic Games in Los Angeles, and is now regularly seen at events supporting the development of younger riders with the HMT Junior Academy.
In the event, Rotherham put in a solid performance at Revolution, placing third in the spring event behind Pavel Keleman of the Czech Republic and Britain's Callum Skinner.
Thank you for reading 5 articles this month* Join now for unlimited access
Enjoy your first month for just £1 / $1 / €1
*Read 5 free articles per month without a subscription
Join now for unlimited access
Try first month for just £1 / $1 / €1