PIEPOLI FACES TWO YEAR BAN FOR TAKING EPO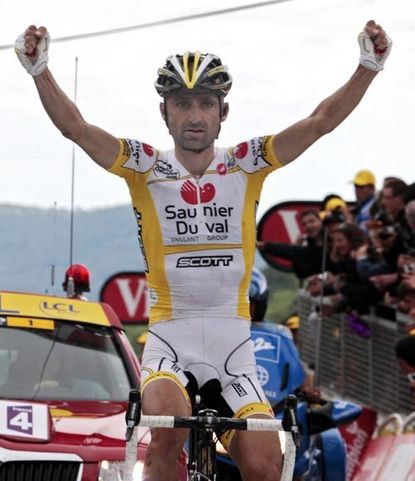 Leonardo Piepoli, the Italian rider who twice tested positive for EPO during this year's Tour de France, is to face a two-year ban from competition.
The Italian Olympic Committee (CONI) announced on Thursday that Piepoli will face the 24 month suspension after he failed a test for CERA, a new variant of blood-boosting drug EPO.
Piepoli won the mountainous stage 10 to Pau in the 2008 Tour, but it was blood samples taken on July 4 prior to the start of the race, and on the first rest day on July 15 that returned a positive result. B samples for both days were subsequently tested for CERA, and both confirmed the positive result.
Piepoli's team-mate Riccardo Ricco also tested positive for CERA during the Tour and has been banned for two years. Both riders were ejected from team Saunier Duval when the news broke of the positive tests.
Gerolsteiner riders Stefan Schumacher and Bernhard Kohl also tested positive for CERA during the Tour, both have also received suspensions.
Prior to the Tour de France in July, there was no test in place for CERA - but samples taken during the race were retrospectively tested. This appears to have caught out riders who thought that they could evade detection for doping by taking a substance they thought could not be detected.
RELATED LINKS
Hauled over the Kohl
Kohl gets two year ban
Ricco banned for two years
Schumacher tests positive at Tour de France
Thank you for reading 5 articles this month* Join now for unlimited access
Enjoy your first month for just £1 / $1 / €1
*Read 5 free articles per month without a subscription
Join now for unlimited access
Try first month for just £1 / $1 / €1