Pooley beats Cooke for National Championship win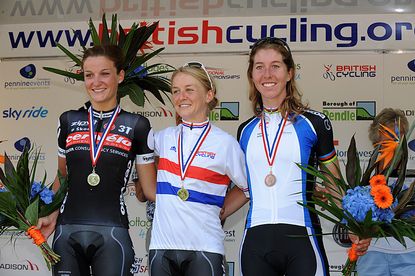 British road race national championships 2010 photo gallery by Andy Jones>>
After nine consecutive years of dominance, Nicole Cooke has finally been beaten in the National Road Race Championship. It took all that the Cervelo Test Team could throw at her, but in the end Emma Pooley clipped-off on the last uphill of the day to take the win.
"I can't believe it," exclaimed Pooley immediately after crossing the line in the village of Barley, Lancashire.
Pooley had been a member of a four rider group that broke free on the first full lap of racing after the event had been restarted. Also comprising Cooke and Pooley's two team mates Sharon Laws and Lizzie Armitstead, the advantage lay very much with the Cervelo riders.
Cooke put up a valiant defence of her title, putting in attacks and splitting the group a number of times on the tough 7.5 mile circuit. As the race approached the finish, it looked like she might even have the measure of her rivals. But as Pooley explained:
"If it came to a sprint finish, Lizzie could win. If I wanted to win, I had to get away. Sharon Laws was the same. The net result is that Nicole had to cover everything."
Cooke almost did. But in the last mile, she seemingly had too many riders to watch and allowed Pooley to get a small gap on the ramp up towards the shady, flat run-in to the finish. Given an inch, Pooley took a yard.
"It was accidental really," Pooley said. "Everyone was playing cat and mouse so I went on the front to stop us getting caught from behind. Then Nicole was watching Lizzie for the sprint and left a gap. So I thought 'I'm going'."
With Pooley crossing the line alone, Armitstead outsprinted Cooke for second place. Laws took fourth while Katie Colclough soloed in behind for fifth. With Armitstead and Colcough also taking the top two places in the under-23 championship, Emma Trott -recently recovered from breaking her collarbone in Belgium- completed the podium.
Unfortunately the race had to be stopped on the first lap following a nasty pile-up on the steep descent around the back of the course. It's thought that 14 riders were involved and at least two were hospitalised. Although details are still sketchy, one rider is said to have suffered back injuries, another a broken leg.
Results

1 Emma Pooley (Cervelo Test Team) 48km in 1-28-59
2 Lizzie Armitstead (Cervelo Test Team) at 8sec
3 Nicole Cooke (Nicole Cooke.com) at same time
4 Sharon Laws (Cervelo Test Team) st
5 Katie Colcough (100% Me) at 2-02
6 Emma Trott (Moving Ladies) at 2-16
7 Natalie Creswick (Twickenham CC) st
8 Kara Chesworth (Dysynni CC) at 3-32
9 Sarah Storey (Horizon Fitness RT) at 3-34
10 Joanna Rowsell (BC private member) at 5-39
Under 23
1 Lizzie Armitstead
2 Katie Colclough
3 Emma Trott
Emma Pooley in the decisive move of the race
An emotional Emma Pooley crosses the line
All smiles: Emma Pooley takes the British women's title
Related links
Thomas wins men's national title
Thank you for reading 20 articles this month* Join now for unlimited access
Enjoy your first month for just £1 / $1 / €1
*Read 5 free articles per month without a subscription
Join now for unlimited access
Try first month for just £1 / $1 / €1