POULIDOR STARS AT THE DAVE RAYNER DINNER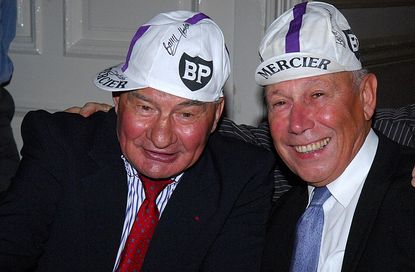 Get The Leadout Newsletter
The latest race content, interviews, features, reviews and expert buying guides, direct to your inbox!
Thank you for signing up to The Pick. You will receive a verification email shortly.
There was a problem. Please refresh the page and try again.
Full gallery of photos from the 2008 Rayner Dinner>>
They've done it again, flown in yet another cycling hero from the Continent. This time it was Raymond Poulidor, the greatest Frenchman never to win the Tour de France.
Poulidor, 72, instead became famous for being the ?eternal second?. On Saturday night he graced the top table at the Dave Rayner Fund Raising dinner at the Majestic Hotel in Harrogate.
The occasion was the 50th anniversary of Brian Robinson?s stage win in the Tour, the first by a Brit. This was a Tour-themed night. And the place was busting with the Brits who followed in Robinson?s wheel marks.
Fittingly, they included the most recent addition to their ranks, the Isle of Man super star, Mark Cavendish, winner of a record four stages in this year?s Tour, plus two in the Giro earlier in the year.
On the top table with Poulidor and Robinson and his wife Audrey was eight times stage winner Barry Hoban ? with his wife Helen - Michael Wright, the Belgian-born Englishman who doesn?t speak English, and Sir Jimmy Savile OBE, one of the Rayner fund?s biggest supporters. And representing the TV, Eurosport commentators the two Davids - Harman and Duffield.
Plus, this scribe, honoured to be there, sandwiched between Duffers and Sir Jim. The table became the focus of Tour fans, and queues quickly began to form for the gracious Poulidor?s autograph, even before dessert was served.
Scattered among the 600 diners were so many great names of the recent past, the distant past and the present, it was impossible to name them all. But here are a few:
Chris Boardman, Alan Ramsbottom, Vin Denson, Stan Brittain, Ian Steele. And Billy Bilsland, one of Scotland?s greatest exports to the Continent was there, too.
Everyone seemed so busy chatting; few took much time to watch the archive films being shown on the big screens spread about the banqueting suite. It was amusing, in a way, that the likes of Poulidor and Hoban were so ensconced revelling in the past, that they missed seeing again their younger selves in full flight on the silver screen behind them.
Some 600 diners from every discipline in the sport enjoyed a fine banquet and a fun-packed evening, the richest among them freely opening their wallets for the auction. Because that?s why they came, to support the Rayner Fund, to honour the late David Rayner, a great talent cruelly denied from realising his potential.
His untimely death inspired the creation of the Rayner Fund, so that others might complete Rayner?s dream. There was pause also, to remember the Fund?s late secretary, Stuart Holdsworth, who was killed in a road crash a few weeks ago.
Fund treasurer Bill Holmes, supported on crutches since breaking his leg, paid tribute to a Holdsworth, as vibrant as Rayner was himself and a tireless and enthusiastic worker for the Rayner Fund and his community.
The tragedy of it is that Holdsworth died on the very road that was the subject of his campaign for a cycling underpass. Close on 300 riders have benefited from Rayner Funding g these 14 years. with Dan Martin one of the most recently successful, now placed with Slipstream pro team.
That night, over £12,000 had been raised towards backing the 2009 selection of youngsters to be placed with clubs and teams abroad. Almost £8000 was raised in the auction of sparkling bikes and famous memorabilia during an exhausting near two-hour marathon to sell off 21 exclusive items.
Before the auction, we saw a unique three-way act on stage, as Robinson and Hoban between them set about interviewing Poulidor. There were special awards, too. Poulidor was presented with a painting of himself in action, by artist Brian Jackson.
Cavendish received a painting, too, of one of his stage wins. And Sir Jimmy Savile, one of the Rayner Fund?s greatest supporters, was presented with a painting of one of Italy?s post war greats, Gino Bartali.
The jersey Gino?s was wearing was bought by Savile at last year?s auction. And there was also a presentation to Sid Barras, one of Britain?s top pros from the 1970s and 1980s era and now a member of the Rayner selection committee. He was awarded the League of Veterans Racing Cyclists International Rider of the Year Trophy.
Dotted among the oldies were a lot of fresh-faced youth, the names of the future. One of them, Alex Wise, 20, is recovering from Glandular fever which stopped him racing in April, put him out of action for the season.
But he?s secured Rayner backing for 2009, he told me; ?I was very ill for a time. But I?m well again now. I?m looking forward to giving it another go next year. It?s been a memorable evening for me,? said Robinson.
?I first met Poulidor in 1960, when I was on the way out and he was on the way in. We raced the same events for a year. It was 20 years before we met again, when I went skiing for the first time. I was 65! I could go fast downhill, but couldn?t stop.
?Anyway, I started going to riders reunions then, and met Poulidor again. I think everyone here loved the way he was relaxed, so easy going.?
For more on the Dave Rayner dinner, see this Thursday?s Cycling Weekly.
RELATED LINKS
Tour stars turn out at Dave Rayner dinner.
Thank you for reading 20 articles this month* Join now for unlimited access
Enjoy your first month for just £1 / $1 / €1
*Read 5 free articles per month without a subscription
Join now for unlimited access
Try first month for just £1 / $1 / €1
Get The Leadout Newsletter
The latest race content, interviews, features, reviews and expert buying guides, direct to your inbox!
Keith Bingham joined the Cycling Weekly team in the summer of 1971, and retired in 2011. During his time, he covered numerous Tours de France, Milk Races and everything in-between. He was well known for his long-running 'Bikewatch' column, and played a pivotal role in fighting for the future of once at-threat cycling venues such as Hog Hill and Herne Hill Velodrome.