POWERHOUSE WILKINSON TOO STRONG IN SALFORD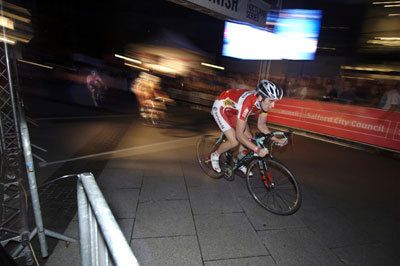 Ian Wilkinson used his strength and no-nonsense riding style to take victory in the first ever Salford Nocturne on Saturday in front of a good crowd that turned out in force to catch a glimpse of cycling's Olympic heroes.
Geraint Thomas and Ed Clancy, gold medallists in the team pursuit, made their way to the start-line and were joined at the front by Craig MacLean and Rob Hayles.
And it was the two gold medallists who tried to escape the bunch on the first lap; Clancy and Thomas quickly made a reasonable gap. It's now a common scenario for Halfords-Bikehut duo Rob Hayles and Tom Southam to be seen at the front, attempting to control the race, despite being outnumbered. Hayles saw the danger in the early stages and ensured the group did not get a gap, and all was brought back.
MacLean soon realised that criteriums are a different game to sprinting in the velodrome and lost the last wheel, along with a few other stragglers.
Pearl Izumi / Planet X rider Matt Jones tried an opportunist attack which was short lived. When it was brought back, eventual winner, Ian Wilkinson then launched a perfectly timed counter-attack and it was then Tom Southam's turn to put the power down for Halfords-BikeHut to try and chase. This proved a little too much for Geraint Thomas, who was dropped from the bunch, likely to have understandably let a bit of his conditioning go after the Olympics.
Wilkinson quickly gathered up a 10-second lead. Plowman Craven's Simon Richardson tried to bridge the gap, and was shortly joined by Pearl Izumi / Planet X climber Liam Holohan. The three worked well and kept getting time up on the chasing group, which formed of 9 riders. Matt Stephens, James Stewart, Rob Hayles and Ed Clancy were all instrumental in trying to chase down the three leaders.
With 7 laps to go, the gap was just getting bigger. Stephen Adams (Pearl Izumi / Planet X) made a risky move of attacking the group to try and join his teammate Holohan in the lead, the rest of the chasing group just looked at each other, but Adams was eventually unsuccessful in his attempts.
With 5 laps to go, Wilkinson, Holohan and Richardson had developed a 20-second lead, this increased to 30-seconds with 4 laps to go. Holohan knew he would struggle in a sprint against the likes of Wilkinson and Richardson and launched an attack with 2 laps to go, on a mission to bring home the £1,000 first prize. He formed a gap, but Richardson and Wilkinson knew they had to hold on. Wilkinson then took his turn to attack with just a lap to go and was too strong for the other two, he had time for an ecstatic victory salute, and deservedly so.
"To be honest, I was confident, because I got the gap. We got working and Simon [Richardson] was strong but I know, fortunately, that he was a little bit scared on the corners. I had him every time around the bends. Liam was very fast round the bends, he's really strong at the minute for a little lad, I was more worried about Liam," Wilkinson explained after the race.
"Simon brought back Liam's attack which was perfect, he made the effort. I buried it for half a lap, got the gap and looked around, grand in your hand, thanks very much."
Result: Salford Nocturne
1. Ian Wilkinson (Science in Sport) 53-46.20 minutes
2. Liam Holohan (Pearl Izumi/Planet X)
3. Simon Richardson (Plowman Craven)
4. Rob Hayles (Halfords Bikehut)
5. Ian Bibby (Science in Sport)
6. Matt Brammeier (Profel Prorace)
7. George Atkins (Pearl Izumi/Planet X)
8. Andrew Tinsley (Pearl Izumi/Planet X)
9. Simon Gaywood (Plowman Craven)
10. Tom Barras (Plowman Craven)
Thank you for reading 20 articles this month* Join now for unlimited access
Enjoy your first month for just £1 / $1 / €1
*Read 5 free articles per month without a subscription
Join now for unlimited access
Try first month for just £1 / $1 / €1