Proposed Edinburgh cycle hire scheme could 'convert people to cycling'
A proposed cycle hire scheme in Edinburgh could see the number of people in the city increase by 40 per cent, according to figures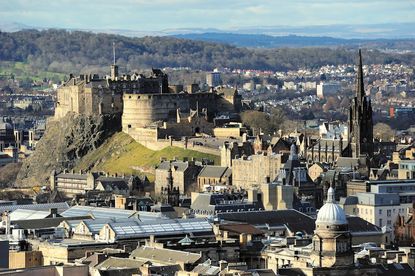 Edinburgh is hoping to see a 40 per cent increase in cycling rates if a 'Boris-bike'-style cycle hire scheme is approved this year.
Advertising firm JCDecaux is in talks to introduce a rental scheme in the Scottish capital, having already set up similar schemes in Paris, Dublin and Brussels, according to the Edinburgh Evening News.
>> Edinburgh University students use Google Glass in cyclist stress study
Both Paris and Dublin saw 40 per cent increases in cycling in the first five years, and Ian Maxwell, spokesman for Lothian cycling campaign Spokes, told the Scotsman that the scheme would help the city's residents convert to cycling.
He said: "It would be a shot in the arm for cycling in Edinburgh, because a lot of people who are interested in cycling don't want to buy a bike outright.
"A hire scheme would let them convert to cycling without making that investment.
>>> Belfast to launch 'Boris bike' style scheme by spring 2015
"For a lot of people, particularly students, there's a problem with storage for bikes. I think a hire scheme adds to the mix, and makes it more likely that people will have a shot at cycling.
"The benefit of these on-street cycle hire schemes is that they just make it more prominent that cycling is an option. It is all part of changing the culture."
Thank you for reading 20 articles this month* Join now for unlimited access
Enjoy your first month for just £1 / $1 / €1
*Read 5 free articles per month without a subscription
Join now for unlimited access
Try first month for just £1 / $1 / €1