Prototype Limits power meters to be available for testing in two weeks, says creator
After announcing delays in delivering the budget power meter to investors, the Limits boss tells CW that prototype testing will begin in two weeks by cycling club members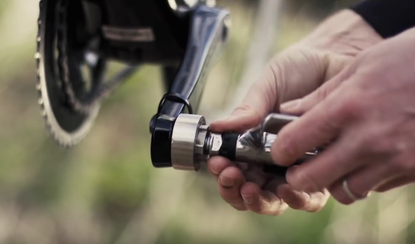 Prototypes of a crowdfunded power meter from Limits Technology are to be tested by cycling club members in two weeks time.
The chief operating officer of Limits Technology, Gordon Drummond, has told Cycling Weekly that pre-production samples of the crowd-funded device will be available for assessment by Friday December 11.
"In two weeks from now the power meters will be here," says Drummond.
They'll be given to Spokes Racing Team, a club on Scotland's east coast which is affiliated to British Cycling. It's owned and run by Craig Grieve, who has recently agreed a three year sponsorship deal with Limits for the club.
Grieve says he's had the same information by Drummond. "He reckons we'll get them on the bikes in a couple of weeks," Grieve tells CW.
"There has been some negative comments about the project and this will be the best way to put those to bed."
Limits has raised $435,000 through crowdfunding site Indiegogo since the power meter project was first revealed by CW in April. It's designed to screw into the crank so it can be swapped quickly between bikes.
This week CW learned from Limits that some backers would have to wait up to three months longer than originally forecast for their discounted units.
The delivery schedule on the crowdfunding website has since been put back from December to March and, in the last 48 hours, a further $2,300 has been pledged by backers.
Jon Entwistle of enthDegree Cycling, based in Aberdeenshire, invested more than £800 in Limits through Indiegogo and is looking forward to receiving five units.
"I want my coached clients to exploit the benefits of training with a power meter and this should be an affordable way to help them" says Entwistle.
Doubts about the credibility of the product have been expressed in a blog by Ray Maker about power meters.
Drummond is reluctant to say why there has been disquiet about the progress of the project. "We don't want to get into mudslinging in social media or elsewhere," he says. "The way to address that is to deliver the product."
Max Glaskin is an award-winning freelance journalist who tweets about cycling and science as @CyclingScience1 and is the author of Cycling Science (published by Frances Lincoln UK, Chicago University Press USA, and seven other languages).
Thank you for reading 20 articles this month* Join now for unlimited access
Enjoy your first month for just £1 / $1 / €1
*Read 5 free articles per month without a subscription
Join now for unlimited access
Try first month for just £1 / $1 / €1