Queally's comeback signals new phase in Team Pursuiting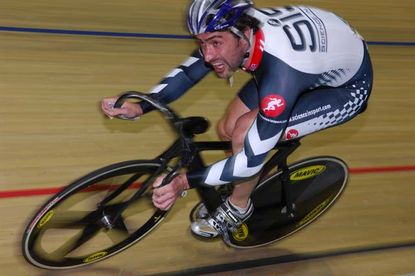 Jason Queally's return to international level track racing in the Team Pursuit will be one of the highlights of the world championships in Copenhagen this month.
His switch to the endurance ranks of the British squad will be keenly watched by all the other nations and could bring about the beginning of a new era in team pursuiting.
For some time now the British coaches have been talking about the discipline as a sprint/endurance event, rather than a straight endurance event, but Queally is the first sprinter to try and make the transition.
Olympic champion in the kilometre in 2000, Queally's last appearance at a world championships was in Bordeaux, 2006 where he rode in the Team Sprint qualifying round.
Now, after months of a different type of training, he returns to the British team
"It's an amazing comeback," British Cycling's Performance Director Dave Brailsford said. "But for years there was a lot of talk, when Jason was a kilo rider, about his potential as a [Team Pursuit] rider, he was always confident he could ride it."
At the Beijing Olympics the British quartet of Ed Clancy, Geraint Thomas, Paul Manning and Bradley Wiggins set a new world record of 3.53:314 minutes. This followed eight years of teams vying for supremecy, regularly setting times just under the four minute barrier.
Now, as the teams look to beat three minutes 50 seconds to win gold in London 2012, Queally's inclusion in the British team may see other nations change their approach.
"The powers involved now the event has developed lend themselves more to a kilo rider," Brailsford said. Queally has had to retrain himself though. "It's a bit of both; a change in approach by Jason, and a change in the dynamics of the event."
"He's slimmed down, his training has been different and his body has morphed according to his training. He's reforming himself as a pursuit rider, and credit to him, once he's decided to try something his ability to lock on and focus is scary."
"There's few athletes who could break in to the British team pursuit quartet. To do it at 40 years old is phenominal."
Queally isn't necessarily the answer to making the team pursuit quartet faster though. While he has been training with his new team mates on the roads of Majorca under the watchful eye of endurance coach Dan Hunt, Brailsford pointed out that neither Thomas or Wiggins would be present in Copenhagen.
Putting a sprinter in to the team pursuit squad could make for a fascinating change in the dynamics of the event, although Brailsford said it was unlikely he would be off man one. "We're looking at the back end, but I don't want to divulge too much at the moment," he said.
The world track championships run from March 24 - 28 in Copenhagen, Denmark.


Related links
Queally named in GB track worlds squad
Thank you for reading 20 articles this month* Join now for unlimited access
Enjoy your first month for just £1 / $1 / €1
*Read 5 free articles per month without a subscription
Join now for unlimited access
Try first month for just £1 / $1 / €1