Raimondas Rumsas's son banned for four years, eight months after younger son's mysterious death
23-year-old tested positive after younger brother died in mysterious circumstances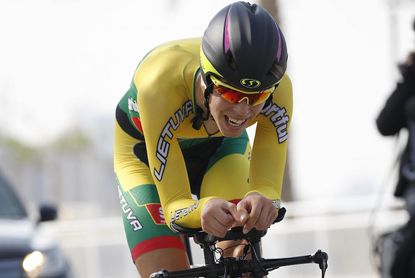 (Image credit: Yuzuru SUNADA)
Raimondas Rumsas Jr, the 23-year-old son of the former Lithuanian rider with the same name who placed third in the Tour de France and failed an EPO test, has been banned for four years for using human growth hormone GHRP-6.
Rumsas Jr tested positive for GHRP-6 in an out-of-competition test on September 4, with the Italian Anti-Doping Agency (NADO Italia) imposing a four year disqualification which will mean that he will be out of action until October 22, 2022. Rumsas was also ordered to pay €378 in legal costs.
Rumsas Jr's doping ban comes less than a year after younger brother Linas Rumsas died in mysterious circumstances at the age of 21. Officials in Lucca have reportedly been investigating the Rumsas family and whether his death had been caused by the use of forbidden doping substances.
>>> Cycling documentary which lifted the lid on the Russian doping scandal nominated for Oscar
Now 45 years old, Raimondas Rumsas Sr. finished in third place at the 2002 Tour de France, although his wife was stopped by French police on the final day of the race. She was found with a large stash of performance-enhancing drugs in her car and had to spend more than a month in jail, insisting that the drugs were for her mother-in-law, while her husband refused to return to the country.
Both Rumsas and his wife received four-month suspended prison sentences for the importing the prohibited drugs into France, with Rumsas also testing positive for EPO shortly after finishing in sixth place in the 2003 Giro d'Italia, receiving a one-year ban.
The amateur Palazzago-Fenice team has sought to distance itself from Rumsas Jr since news of his positive test broke in September, saying that it had only supplied him with bikes and kits since his brother's death and had left him to his own devices with training and racing.
Thank you for reading 20 articles this month* Join now for unlimited access
Enjoy your first month for just £1 / $1 / €1
*Read 5 free articles per month without a subscription
Join now for unlimited access
Try first month for just £1 / $1 / €1