Raimondas Rumsas's son tests positive for growth hormone months after other younger son's death
Raimondas Rumsas Jr tested positive just five months after 21-year-old brother Linas died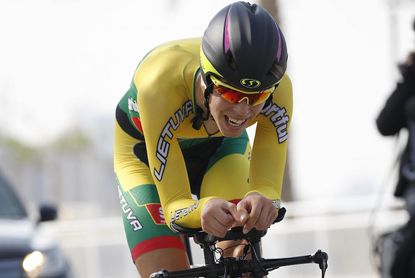 (Image credit: Yuzuru SUNADA)
Raimondas Rumsas Jr, the 23-year-old son of the former Lithuanian cyclist with the same name who placed third in the Tour de France and failed an EPO test, has been suspended for using human growth hormone just five months after his 21-year-old brother mysteriously died.
The anti-doping branch of the Italian Olympic Committee (CONI) today released a statement announcing the out-of-competition test on September 4.
"The athlete Raimondas Rumsas, licensed by the Italian federation, was found positive for GHRP-6 following a control in Capannori [Lucca, Italy]."
The Italian anti-doping tribunal (TNA) suspended the team Palazzago-Fenice rider while the investigation continues.
This July, Rumsas won the Freccia dei Vini in Italy and dedicated it to his brother Linas. The 21-year-old, who was an amateur cyclist, died mysteriously on May 2 and led to the Lucca prosecutor opening an investigation of team Altopack and the Raimondas family.
Their father Raimondas Rumsas, now 45-years-old, won Il Lombardia and finished third in the 2002 Tour de France behind Lance Armstrong and Joseba Beloki.
French police stopped his wife Edita while travelling back home towards Italy and found a stash of prohibited substances. They called in Rumsas, but he refused to travel to France and left his wife in Bonneville's jail for 34 days.
The two received four-month suspended jail sentences. By the time of the ruling, Raimondas tested positive for banned blood booster EPO in the 2003 Giro d'Italia after placing sixth overall.
Following the news today, the Palazzago-Fenice team distanced itself from Raimondas Rumsas. It reportedly had helped him with bicycles and clothing following his brother's death, but had left the cyclist to manage himself at races.
Thank you for reading 20 articles this month* Join now for unlimited access
Enjoy your first month for just £1 / $1 / €1
*Read 5 free articles per month without a subscription
Join now for unlimited access
Try first month for just £1 / $1 / €1