REVOLUTION FINALE THIS WEEKEND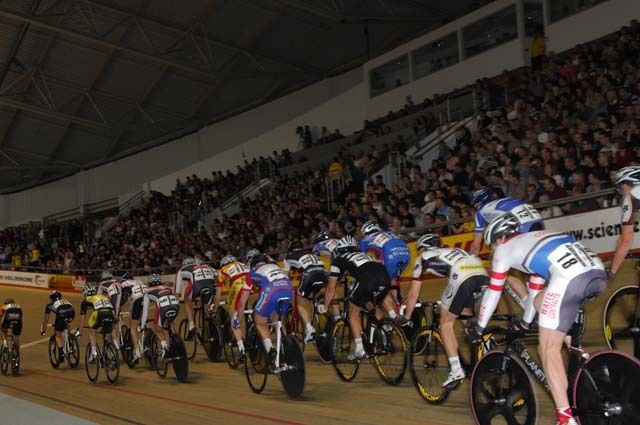 The Manchester Velodrome is expecting another full house for the final event of the Revolution Series which takes place at the Manchester Velodrome on Saturday February 23.
The season finale is set to provide an unmissable night of racing and entertainment with numerous highlights that are guaranteed to provide the best event of the season.
With the Track World Championships taking place at the Manchester Velodrome between the 26 and 30 March the Revolution event will provide the final opportunity for competition before the riders fight it out for world titles.
With this in mind a number of international teams are using the Revolution event to test their top riders against the powerful British squad. The main event will be a clash between the British and French Team Sprint squads with the British team looking for revenge against the French who beat them to the world title in 2007.
Other highlights will include the return of Victoria Pendleton in the elite women?s sprinting, the culmination of the DHL Future Stars competition, the Isaac Galvez Memorial Madison and Geoff Thomas and Martin Johnson riding an Italian Pursuit in the Geoff Thomas Challenge.
Another highlight which will be a one off event will be the 1km Madison Time Trial with Chris Hoy and Arnaud Tournant joining forces to go for a new race record.
Arnaud Tournant smashed the record at Revolution 16 riding with Craig MacLean to clock a time of 55.164 but the world kilo record holder will now join forces with the Olympic kilo champion creating the ultimate kilo tag team.
?I am a bit apprehensive? commented Hoy. ?But with a clean changeover we'll be fine. We've got the horse power, the speed so if we can get the sling done smoothly and not make any mistakes then we've good a good chance at breaking the record.?
?I've never done a handsling so I'm hoping to get Rob Hayles down to the track on Friday to practise. It?s very technical but if we can get through the handsling ok we'll be on to break the record.?
Tournant is nursing a sore shoulder; an injury he sustained before the Copenhagen World Cup so the riders will wait until Saturday to decide how to approach the Madison handsling,
?Arnaud has hurt his shoulder so hopefully he will be able to ride? Hoy confirmed. ?He's fine seated on the bike but struggles with starting and the handsling would probably not be very good for it!?
With Tournant set to retire after the Olympics this year this race will provide a unique opportunity to see two of the Kilo greats working together.
Tickets and information for the event on February 23 can be found on www.cyclingrevolution.com or by calling 0845 686 0105 or the Manchester Velodrome on 0161 223 2244.
RELATED LINKS
Revolution: pressure grows for GB Worlds selection