Revolution Series back soon at Manchester Velodrome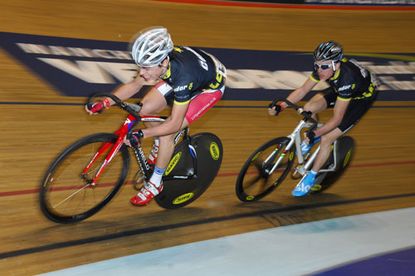 What the organiser claims is the "UK's premier track cycling championship" returns to the National Cycling Centre this October with dates for Revolution Season 8 confirmed as 23rd October, 20th November, 11th December and 15th January.
The series has grown in popularity since the first in 2003 and attracts some of the world's best riders as well as the UK's top stars including Chris Hoy, Bradley Wiggins and Victoria Pendleton.
Last year's Season 7 saw the launch of a new Championship format and experienced sell out events across the Series. The last event was also filmed by Sky and was the first cycling event in the world to be filmed in 3D.
Tickets go on sale from Friday 13th August with standard tickets due to be released on 1st September.
Reserved seating will be introduced for the first time, a move which organisers hope will help spectators. "We're introducing reserved seating and premium seats at Revolution for the first time," commented Face Partnership's James Pope. "This means spectators can enjoy all the attractions around the stadium without fear of losing their seats."
"It will also bring a real advantage to being a season ticket holder" he continued. "Season tickets will be on sale first so our loyal customers will get the pick of the best seats and will have the comfort of knowing it is theirs across the four events."
Facebook and Twitter users will also get the opportunity to buy tickets a day before general release. Full details here.
Thank you for reading 20 articles this month* Join now for unlimited access
Enjoy your first month for just £1 / $1 / €1
*Read 5 free articles per month without a subscription
Join now for unlimited access
Try first month for just £1 / $1 / €1