Ride With... Buxton Cycling Club
With the Peak District at their disposal, we meet a club who love to climb - Photos by Andy Jones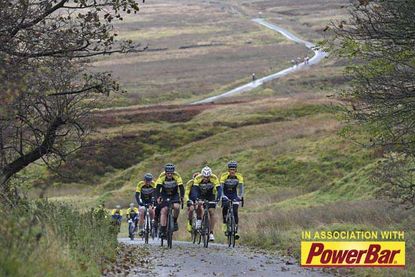 (Image credit: Andy Jones)
From: Buxton, Derbyshire
Members: 130
Formed: 1948
Meets: Sunday club runs start at 9am from the Edinburgh Woollen Mill shop in central Buxton and split into A and B rides. Wednesday evenings cat A and B rides of 20 miles leave at 6pm from Selecta Tyre in Fairfield. Thursday morning cat C rides of around 30 miles again leave from Edinburgh Woollen Mill shop at 9am. Friday cat D social rides aimed at newcomers/returners to cycling leave the Edinburgh Woollen Mill shop at 7pm. In summer, the weekly 10-mile time trial races at Fairfield on Tuesdays at 7pm.
Website: www.buxtoncyclingclub.co.uk | Twitter: @BuxtonCycling
This is one of my most favourite roads in the world," Buxton Cycling Club member Rhys Roberts tells me as we wind our way up out of the Goyt Valley towards the top of the famous Cat and Fiddle pub in the Peak District National Park, Derbyshire.
"In fact, I love it so much," Roberts continues, "I moved to the area because of it!"
It's a grand claim, but entirely feasible, as even on a drizzly day it's breathtakingly beautiful here, with waterfalls in full flow and a spectacular display of forests and moorland sporting full autumnal fatigues.
>>> Find a cycling club near you
In fact, the only downside is the rather brutal climb straight out of Buxton that we've had to conquer in order to take in the visual feast. "Living in Buxton has certainly made me fit!" says Roberts.
"This is my first season racing, I'm even giving hill-climbs a go." He certainly seems at home in these hills, positively dancing on his pedals and continually chatting despite the steep upward trajectories.
To be fair, everyone at Buxton Cycling Club is making these Peak District hills look easy.
"A few of the club spent time in the Alps this summer, and I'm just back from riding the Pyrenees coast to coast, so we've all got mountain legs right now," laughs club member Julie Parker.
"Although, my brand new bike is also helping — I only picked it up yesterday. I was sharing a bike with my daughter until now." Parker then tells me that she and her daughter found cycling via the unusual route of the Girl Guides and now the entire family race regularly.
>>> Ride With… North Norfolk Wheelers
"I promise, after this climb, it's all downhill," Friday night run leader Dominic Smith tells me after today's cafe stop. Today's tour of the finest Peak District National Park climbs are beginning to show, and my legs are protesting. "Unfortunately it's a 25-minute climb into a headwind," he grins. I get the impression he's rather enjoying the conditions.
"It's just typical of the riding up here, you have to be mentally strong," says today's run leader, Steph Hanshaw.
"I think that's why we're good at racing and undertaking charity events."
Hanshaw started her cycling career by riding to Snowdon, running up and down the mountain before riding back home to raise money for Ronald McDonald House
in Manchester.
"The trip we took to the Alps was also for charity," Chris Hallam chips in.
"There were nine of us in total and our initial aim was just to ride up Alpe d'Huez, so we did that, but by the end of the week we'd also ridden up the Col du Galibier, which is even higher! We raised an impressive £1,700 for the Cure Leukaemia charity; it was an awesome achievement on all fronts."
"Many of these riders started out on the Friday night all-ability rides, where we help riders gain confidence. We all try to put a lot back in to the community one way or another," Buxton CC chairman and member of 50 years Tony Millington says.
"One of the club's original members, John MacDonald, is still working with me on time trials. He's a strong lad — so he pushes the riders off!" Millington then tells me all about the various roles he's played in the district race scene. "I'm also the Manchester District Cycling Time Trials chair, and am still an active course measurer and time keeper among other things."
Millington is rather modest about his achievements, both on and off the bike. His volunteering and contributions saw him awarded the RTTC Gold Badge of Honour in 2014. He's the perfect example of Buxton Cycling Club members, a passionate bike rider, but even more passionate about helping others.
History
According to local newspaper records, the Buxton Advertiser, and photos in historical books about the town, a cycling club has been in existence in Buxton since the late 1890s and early 1900s, but sadly no information is known of the names of members or of the club.
The current Buxton Cycling Club was officially formed by Ray Woodward in November 1948 when an advert was taken out in the Buxton Advertiser notifying readers of the soon to be established club and the first Sunday club run.
Ray was appointed club secretary, and a full set of club rules, such as club formation on the road, when and who should ring bells and "not mistaking a club run for a training spin" were established and printed in January 1949.
By the mid 1950s some of the club were participating in long-distance reliability rides and racing.
Over the years the club has become well-known for not only producing strong riders, but also its challenging sporting time trial races, annually promoting an open 10-mile time trial, hill-climb and the famous Mountain Time Trial.
Established in 1972, the event has always attracted a high calibre of rider, with current record holders being Stuart Dangerfield, 1:22:13 for 33 miles set in 2003, and Katie Archibald, 1:00:02 for 22 miles, set in 2014.
Achievements
In the early 1970s the club became one of the first to own a digital stopwatch for timing time trials. Costing the club £100, it was a big investment and was revolutionary for time-keepers and riders for accuracy.
Club treasurer and life member Nick Sharp represented Great Britain at the 1979 Junior World Championships in Argentina, placing a respectable seventh
in the team time trial and 20th in the road race, which was won by future Tour de France champion Greg LeMond.
In 2012 Buxton CC became the RTTC National Hill-Climb team champions at the Rake hill-climb.
Member Matt Ivings finished 14th in the 2017 BBAR in only his second year of
time trialling.
Club member Sam Clark currently holds the UK 'Everesting' title, by climbing 8,848 metres in 11 hours, 29 minutes and 2 seconds.
Buxton CC club run
Ride highlights
1 Goyt Valley
The ribbon of tarmac that leads you through the valley allows you to take in the raw and rugged Peak District National Park at its finest and you can't help but fall in love.
2 Kerridge
After the flying descent of the Cat and Fiddle the punchy climb up the ridgeway is a bit of a surprise to the legs, but is worth it for the views across Manchester, Cheshire and over to Wales.
3 Eccles Pike
The vista from the isolated hill is spectacular, but there's no such thing as a free view, with each of the three options to the top making you work all the
way up.
Favourite cafe
Tea on the Green: this small, family-run tearoom in Chinley offers home-made cakes and snacks, as well as speciality teas, superb coffee and impressive whipped cream topped milkshakes. Tea on the Green, Green Lane, Chinley, High Peak, SK23 6AA.
Thank you for reading 20 articles this month* Join now for unlimited access
Enjoy your first month for just £1 / $1 / €1
*Read 5 free articles per month without a subscription
Join now for unlimited access
Try first month for just £1 / $1 / €1