ROBIN SHARMAN HEADS NEW BRITISH TEAM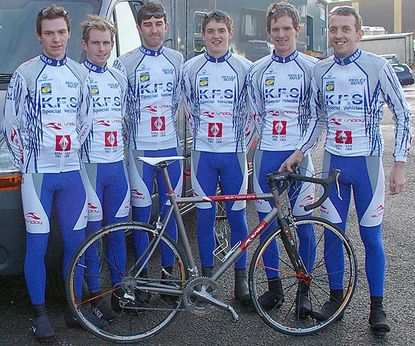 Robin Sharman, the 2005 Premier Calendar winner, will lead the new KFS team in 2007 as the British race scene continues to grow. The KFS ? Special Vehicles / Sunday team is another shot in the arm for the UK racing scene that is going through a resurgence in both teams and events.
Ian Knight of KFS was co-sponsor of the Italian based Nippo team last year and stepped up his involvement after the team's success at the Archer Grand Prix and Brentwood criterium. Knight also persuaded Nippo?s Harry Lodge to join the team as DS.
Lodge brings a wealth of experience to the role, and, although the team are leaving UCI registration for at least one more year, has already secured invites to events on the continent.
Continental races will be slotted in around the team?s goal of UK events, predominantly the Premier Calendar, with Daffyd Dylan, Greg Roche, Gary Hand, Gareth Hewitt and James Stewart backing Sharman up.
The team will be riding Sunday bicycles, a new brand of titanium bikes launching in the UK.
Thank you for reading 10 articles this month* Join now for unlimited access
Enjoy your first month for just £1 / $1 / €1
*Read 5 free articles per month without a subscription
Join now for unlimited access
Try first month for just £1 / $1 / €1