Round the world rider has his bike stolen after 5,000km trip
Jacky Chen had his bike stolen in Vancouver after travelling more than 5,000km on his around the world trip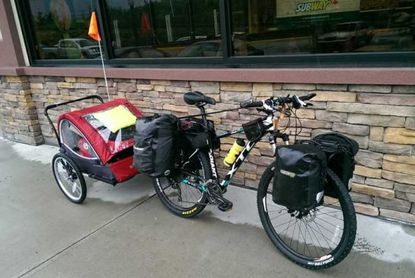 A rider attempting to complete an around the world journey by bike saw his dream destroyed late last week, after his bike was stolen during a stopover in the Canadian city of Vancouver.
Jacky Chen, from Taiwan, locked his bike up to a fence last Friday, having already been on the road for three months. When he returned however, the fence had been broken and his trusty steed stolen.
>>> Teenager celebrates completing 18,000-mile around the world ride
Chen set-off Anchorage, Alaska on June 5 having left his job as an electrical engineer in his native Taiwan to take on the mammoth challenge.
The 37-year-old has been staying with hosts he met over the internet on the journey which will take in more than 100,000km and 100 countries.
But now Chen is appealing to the person who stole his bike to return it, which also holds a certain level of sentimentality for him.
"The first thing I thought was, how am I going to continue my trip?" he told the Vancouver Metro. "I rode this bike for three and a half months. It's meaningful for me."
"My bike is not worth a lot, but it's priceless for me," he added. "If I can get it back, I would be very grateful."
Chen leaves for the next leg of his trip to Seattle this week, with dozens of offers reportedly coming in to give him a new bike after he announced on his Facebook page that it had been stolen.
It touches my heart," he said on the offers. "Some of these people I will never meet, but they feel just like my family."
Thank you for reading 20 articles this month* Join now for unlimited access
Enjoy your first month for just £1 / $1 / €1
*Read 5 free articles per month without a subscription
Join now for unlimited access
Try first month for just £1 / $1 / €1