Teenager celebrates completing 18,000-mile around the world ride
19-year-old Tom Davies, South London, may qualify as the youngest person to ever complete the feat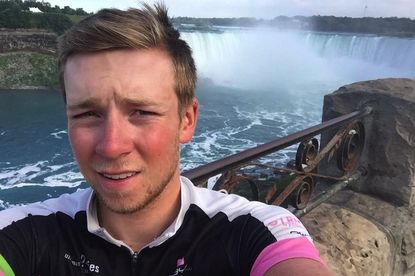 19-year-old Tom Davies arrived in Battersea, South London on Sunday to the cheers of family and friends after completing and 18,000 mile bike ride around the world, in what he hopes makes him the youngest person to ever complete the journey.
After 174 days on the road, which had seen him chased by dogs in Albania, runaway from monkeys and race an emu in Australia, Davies arrived back in London where he'd started on January 17 having raised around £60,000 for charity.
"The trip has been amazing, but I didn't really know what to expect heading into it," the Guardian reports Davies saying. "It has been incredible to see the countries and experience the different cultures in this way, while also pushing myself harder than I ever thought possible.
"I have been overwhelmed by the hospitality of people all around the world, which is something I didn't necessarily expect but has made it much more rewarding. I am delighted that the three charities will benefit from my trip, and cannot express how grateful I am for all the support from my family, friends and almost everyone who has heard about it.
"The last seven months have been very intense and I am looking forward to a few weeks off before heading to university."
Davies raised money for Prostate Cancer UK, Carney's Community and the Sohana Research Fund and now heads off to university to study material engineering at Loughborough.
His mother Alison, who welcomed him as he crossed the finish line said she was proud of what her son had achieved, even if she had worried about him in the "hairy moments".
"He had a few hairy moments, like being chased by dogs in Albania," she said." He recovered from it OK, although I think his heart was pounding a bit.
"There was a very special moment when he found himself riding alongside an emu in Australia. The emu was right next to him and running parallel.
"It certainly is not just any gap year. We are incredibly proud. It feels a bit surreal, Tom certainly feels it is surreal."
You can see all of Davies's impressive rides over on his Strava page.
Thank you for reading 20 articles this month* Join now for unlimited access
Enjoy your first month for just £1 / $1 / €1
*Read 5 free articles per month without a subscription
Join now for unlimited access
Try first month for just £1 / $1 / €1