Self-driving Uber car killed woman pushing her bicycle across the road
Autonomous Uber car hit and killed Elaine Herzberg as she walked her bike across a road in Arizona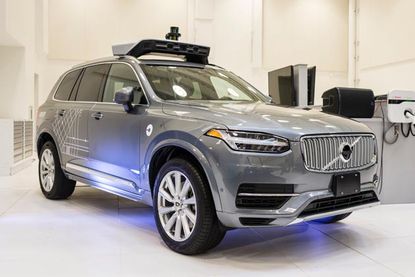 (Image credit: ANGELO MERENDINO/AFP/Getty Images)
Uber's trial of self-driving cars has been suspended after one of its vehicles hit and killed a 49-year-old woman who was pushing her bicycle across the road in Arizona, USA, on Sunday.
The car was reportedly driving in autonomous mode at the time of the collision, although a vehicle operator was present in the car at the time.
Elaine Herzberg was walking her bicycle across the road in Tempe, but not on a pedestrian crossing. The Volvo XC90 vehicle was travelling at around 40mph at the time it hit her, reports ABC News. She died of her injuries in hospital.
According to initial reports, the vehicle did not slow down or brake prior to the collision despite the assertion that pedestrians, cyclists and other road users are supposed to be detected by the technology.
Herzberg's damaged bike could be seen being inspected by police on video footage shown by television news channels after the incident.
Uber said via its Twitter account: "Our hearts go out to the victim's family. We're fully cooperating with @TempePolice and local authorities as they investigate this incident."
Uber's CEO Dara Khosrowshahi added via Twitter: "Some incredibly sad news out of Arizona. We're thinking of the victim's family as we work with local law enforcement to understand what happened."
Tempe Police Department said on Monday afternoon that the vehicle was equipped with forward-facing cameras and one facing the vehicle operator. Its investigation into the incident is on-going.
>>> Uber self-driving cars found to pose risk to cyclists
It is thought to be the first time that a pedestrian or cyclist has been killed by a self-driving vehicle.
In December 2016 concerns were raised by cycling groups about the safety of self-driving Uber cars after shortcomings were reported in how they detected cyclists.
A trial in San Francisco, California, found that the cars drove into and across cycle lanes when turning into a side road, potentially putting any cyclist riding in the lane in danger of collision.
At that time, Uber said that they were aware of an issue and that they were working to rectify it.
Thank you for reading 20 articles this month* Join now for unlimited access
Enjoy your first month for just £1 / $1 / €1
*Read 5 free articles per month without a subscription
Join now for unlimited access
Try first month for just £1 / $1 / €1