Skyrides Local rides in London and Manchester on Sunday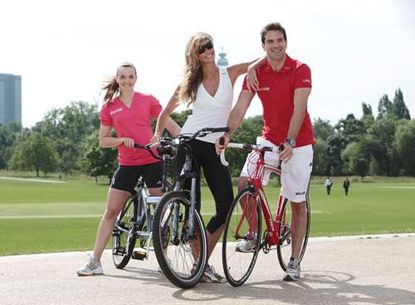 The biggest cycling promotion in UK cycling history – to get one million more bums on bikes by 2013 - kicks off on Sunday (July 5) in London and Manchester, with the first three of hundreds of local Skyrides.

In the following weeks, similar events will roll out in Leicester and Glasgow, as the public is invited to "saddle up with Sky" and their partners British Cycling this summer.
This is the first stage of a five-year promotion announced recently by British Cycling, Sky and UK sport. Their aim is to turn Britain on to cycling for sport, recreation and sustainable transport.
This first phase - the local rides - is focused on getting the closet cyclists to get pedalling, but will include rides for more experienced cyclists, too.
They are designed to give people the confidence to go cycling and to get fit for mass-participation rides in Manchester, Hounslow, Glasgow, Leicester and London this summer.
The local rides, which start on Sunday and run every Sunday through to October, are graded in three ability bands.
All are led rides with experts in charge.
There are two London rides on Sunday (July 5), both starting at 10am.
One ride starts from Brentwood Lock and goes along the towpath of the Grand Union Canal. Distance: 16km.
The other ride is the Battersea Park Loop, consisting of two laps the 5.6km circuit in Battersea Park, starting from the Carriage Road North.
There is one ride in Manchester on Sunday, a 24km circular route from the Velodrome to Portland Basin, along paths, canal towpaths and a short stretch of road.
To find out about each ride and to register, go the website, www.goskyride.com, then go to Skyride Local pages.
Thank you for reading 20 articles this month* Join now for unlimited access
Enjoy your first month for just £1 / $1 / €1
*Read 5 free articles per month without a subscription
Join now for unlimited access
Try first month for just £1 / $1 / €1