Sorry seems to be the hardest word
We ask why it's so hard to forgive Alejandro Valverde for his doping misdemeanors, and why there seems to be no will from Spanish riders to admit past wrongs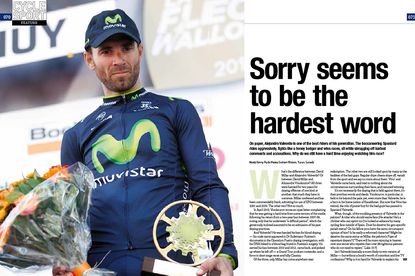 (Image credit: Cycle Sport)
What's the difference between David Millar and Alejandro Valverde? What's the difference between David Millar and Alexandre Vinokourov? All three riders were banned for two years for doping offences of one kind or another: that much they have in common. Millar confessed and has been commendably frank about admitting his his use of EPO between 2001 and 2003. The other two? Not so much.
In April 2010 Vinokourov wrote an open letter complaining that he was getting a hard time from some sectors of the media following his return for a two year ban between 2007-2009, noting that only that he underwent "a difficult period" which, for the generously inclined, was assumed to be an admission of his past doping practices.
And Valverde? He was handed his ban for his blood doping activities - which amounted to 'his' codename in Dr Eufemiano Fuentes' documents in the Operation Puerto doping investigation with his DNA linked to a blood bag found in Fuentes surgery. He served his ban between 2010 and 2012, came back and picked up where he left off - a Grand Tour podium contender, a force in short stage races and hilly Classics.
Of the three, only Millar has come anywhere near redemption. The other two are still looked upon by many as the baddest of the bad guys. Regular dope cheats slope off, vanish from the sport and we say no more about them. 'Vino' and Valverde came back, said next to nothing about the circumstances around their bans and started winning again.
It's not necessarily the doping that is held against them, it's their post-ban words and deeds. Vinokourov, in particular is held to be beyond the pale, though, even more than Valverde, is a hero in his home nation. Additionally, since Vino has retired, the role of poster boy for the bad guys has passed to Valverde.
Read the rest of the article in the current issue of Cycle Sport, priced £4.75
Thank you for reading 10 articles this month* Join now for unlimited access
Enjoy your first month for just £1 / $1 / €1
*Read 5 free articles per month without a subscription
Join now for unlimited access
Try first month for just £1 / $1 / €1