Stolen Ride web service helps reunite pinched bikes with owners
@StolenRide has already had some amazing results, reuniting bikes with their rightful owners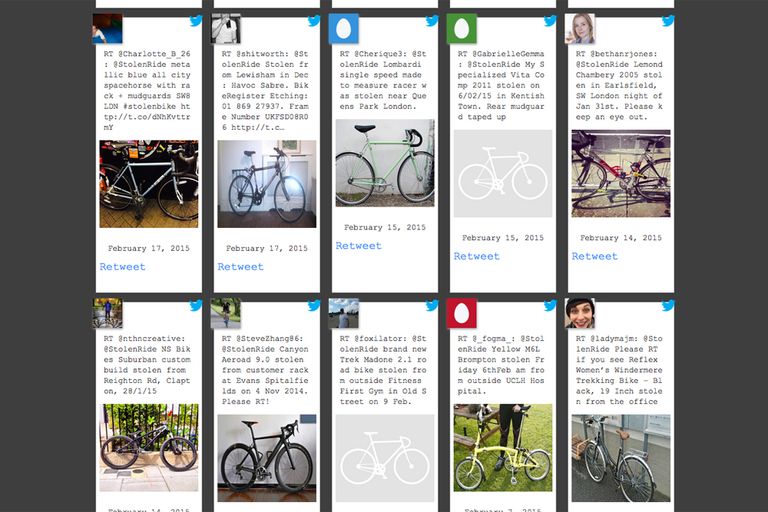 A staggering 20,000 bikes are reported stolen in London every year - with many more thefts going unreported. An innovative new social media and web-based service @StolenRide aims to get owners of stolen bikes reunited with their coveted machines - and it's already had some amazing results.
The service works using a very simple process: simply tweet a photo of your stolen bike with the location of where it was taken to the @StolenRide Twitter account. It then gets retweeted and added to the www.stolenride.co.uk website, whose homepage acts as a virtual noticeboard of pinched bikes.
A network of cyclists in and out of the capital city can then keep an eye out for the bike, reporting any sightings, and updating the police.
The service has already had some amazing results. As we reported back in February, James Vernon was reunited with his £3000 Parlee Z1 after Spaniard Armand Paul Kabarec-Quiroz spotted it in Spain. With help from Kabarec-Quiroz and Spanish authorities, Vernon had the bike shipped back to the UK.
Kabarec-Quiroz is now assisting in retrieving a stolen £2000 Canyon from Spain and reuniting it with its owner in London.
@StolenRide was founded by Richard Cantle, who was left frustrated after having his own bike stolen and saw the need to connect cyclists in keeping an eye out for stolen bikes.
"It really shows how unique and strong the cycling community is around the world and the true connecting power of social media," said Cantle.
"I'm proud of every person that makes up the @StolenRide community; retweeting stolen bikes can truly spread the word quickly around thousands of people. I urge cyclists to never give up the search if their bike is stolen and to keep battling the ever growing issue of bike theft; together we can make a difference!"