Twitter helps to recover stolen bike
£3,000 bike stolen in London turns up in Spain, but is reunited with owner after being spotted by Twitter user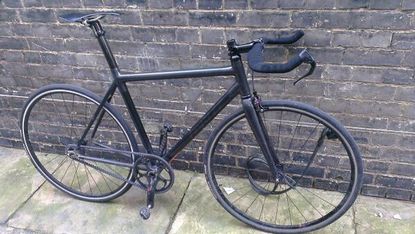 A London cyclist is back riding his rare bike worth upwards of £3,000 after a social media post helped to trace the stolen back in Spain.
James Vernon was left devastated last July when his precious Parlee Z1 was taken from his Islington flat between daylight hours of 8am and 1pm, with the Metropolitan Police unable to find the perpetrator and the cycle.
As so many of us who have been unfortunate enough to have been victims of bike theft do, James took to Twitter to notify the public of his missing bike.
He tweeted @StolenRide - a Twitter community for Londoners who have had their bikes stolen – but did not hear back from anyone with information.
>>> Man arrested in connection with Josh Teasdale £20,000 bikes theft
That was until Spaniard Armand Paul Kabarec-Quiroz noticed the tweet in October and recognised the bike having seen it himself in Southern Europe.
James flew out to Spain to collect his fixed gear bike and is backing riding it around the capital.
Richard Cantle, the founder of Stolen Ride, said: "I could not be happier for James and am thankful for the work that Armand put into it making it possible."
In 2013 GB track sprinter Lewis Oliva had his Pinarello Paris road bike stolen outside a café in Gatley, Manchester, but the bike was returned a few days later when a friend of Oliva's saw it for sale on Facebook.
Thank you for reading 5 articles this month* Join now for unlimited access
Enjoy your first month for just £1 / $1 / €1
*Read 5 free articles per month without a subscription
Join now for unlimited access
Try first month for just £1 / $1 / €1