Surrey withdraws dangerous cycle path following barrage of complaints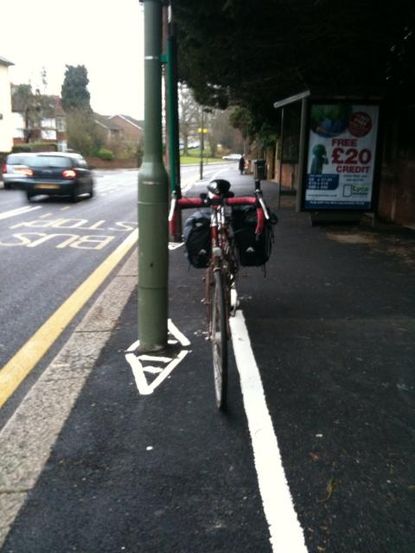 Following complaints from the Mole Valley Cycling Forum that a new cycling facility was unsafe, Surrey County Council say they are withdrawing the cycle path on Epsom Road, Leatherhead, while planners and designers go back to the drawing board.
The 300-metre long two-way path on the pavement was featured on this website. In places it was too narrow for even one bike width and resembled a slalom course, with its 18 lampposts, traffic lights, railings and no waiting signs cyclists had to weave around.
Planners completely ignored government guidelines which advise a width of between 1.5 and 2 metres - for a one-way path! And this was intended as two-way!
When the council acted to widen the path to at best one metre wide, they used a slippery paint to obliterate the original white line, which sparked further outrage.
Phillip Darnton, chairman of Cycling England, the government body promoting cycling demonstration towns, described the Epsom Road facility as a "wonderful example of a piece of nonsense."
A Surrey County Council spokesman said: "In response to comments received from local cyclists we are temporarily withdrawing the cycling facility while we review the design and implementation of the cycle path. To this purpose we will be obliterating the existing lining in the immediate future and returning the path solely to a footway for the use of pedestrians only."
Related links
Surrey's remedial work makes Leatherhead cycle lane worse
Is this the UK's most ridiculous cycle lane?
Thank you for reading 20 articles this month* Join now for unlimited access
Enjoy your first month for just £1 / $1 / €1
*Read 5 free articles per month without a subscription
Join now for unlimited access
Try first month for just £1 / $1 / €1