SWIFT FOURTH IN GP LIBERAZIONE UNDER 23 RACE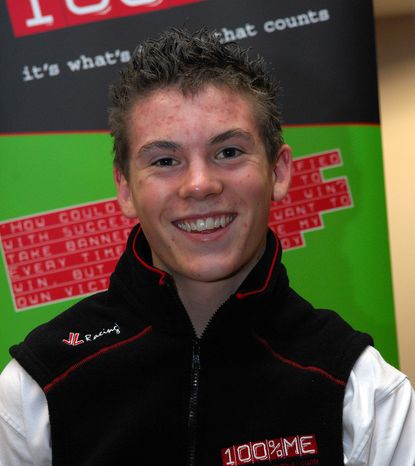 Ben Swift continued Great Britain?s excellent results in under 23 races in Italy on Wednesday, finishing fourth in the prestigious GP della Liberazione race in the centre of Rome.
Italian Manuel Boaro (Zalf) won the race ahead of Mauro Finetto and Australia?s Simon Clarke after being part of a late attack. Swift just failed to catch them in the final three hundred metres as the race came back together but held-off the rest of the bunch with a well-timed and powerful sprint to take fourth.
It was Swift's second international result in a week after finishing seventh in the Cote di Picardie race in France last Wednesday.
?I?m pleased with the result because the team rode well and we went close to catching them,? Swift told cyclingweekly.co.uk.
?The Australian rider jumped across on the last rise and we caught the back of them going into the last corner. Unfortunately they accelerated out of the corner but I still had the legs to get fourth.?
Jonny Bellis was part of the key break that opened a gap of more than a minute at one point and that allowed the rest of the team to save their best for the finale of the race. Andy Tennant was active and aggressive in the final three laps and Ian Stannard tried to go across to the late attack in the last lap.
The Italian classic was the first big objective of the season for the Italian based Academy team and directeur sportif Rod Ellingworth was pleased with the result and how the whole team performed.
?The GP Liberazione is one of the most important races in the Italian calendar and the lads rode well and got a good result,? Ellingworth told cyclingweekly.co.uk.
?Everybody played their part and we were in the race and then Ben was strong in the sprint. He?s got the speed to win races like this. He was disappointed to suffer with cramp in France but this result will boost his moral and proves we can compete with the best Under 23 riders in the world. As the lads race and train together in Italy things can only get better.?
On Wednesday afternoon the Great Britain team headed to Isernia south of Rome, for the start of the Giro delle Regioni stage race. The six-day race includes two tough stages in the hills in Tuscany and the Great Britain will be chasing stage wins.
Thank you for reading 20 articles this month* Join now for unlimited access
Enjoy your first month for just £1 / $1 / €1
*Read 5 free articles per month without a subscription
Join now for unlimited access
Try first month for just £1 / $1 / €1