SWIFT MAKES AGREEMENT WITH KATYUSHA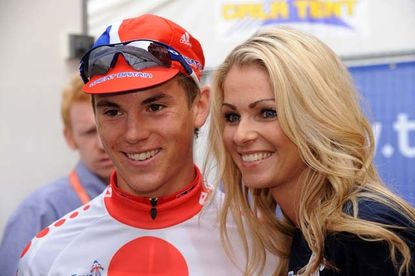 Britain's Ben Swift has a provisional contractual agreement with the Russian Katyusha team.
Swift, one of the most talented prospects in the British Cycling Olympic academy, has an official agreement with the team, although nothing has been signed yet.
Max Sciandri, who heads up the academy, said that Swift is unlikely to sign on the dotted line until after the World Championships. British Cycling, and performance director Dave Brailsford, will check the contract thoroughly before Swift signs.
The two year agreement, which will see Swift through to 2010, is a "good move, with a good team," Sciandri explained. "They'll be one of the top teams next year and it'll give him a chance to ride the major tours and the Classics. It'll be good for him".
Who are Katyusha?
Katyusha is a Russian-backed team and a development of what is currently the Tinkoff team. The team will benefit from an enormous budget, which is believed to run to over ?15m per year.
Katyusha have signed a number of the peloton's top professional riders so far, including Filippo Pozzato, Robbie McEwen, Gert Steegmans, Vladimir Karpets, Alexandre Botcharov, Kenny Dehaes, Stijn Vandebergh, Antonio Colom and Joan Horrach.
It is expected that with the signing of these top riders, the team will be granted automatic entry to the sport's premier races.
Thank you for reading 20 articles this month* Join now for unlimited access
Enjoy your first month for just £1 / $1 / €1
*Read 5 free articles per month without a subscription
Join now for unlimited access
Try first month for just £1 / $1 / €1