TALES FROM THE BROOMWAGON: FRIDAY, JULY 6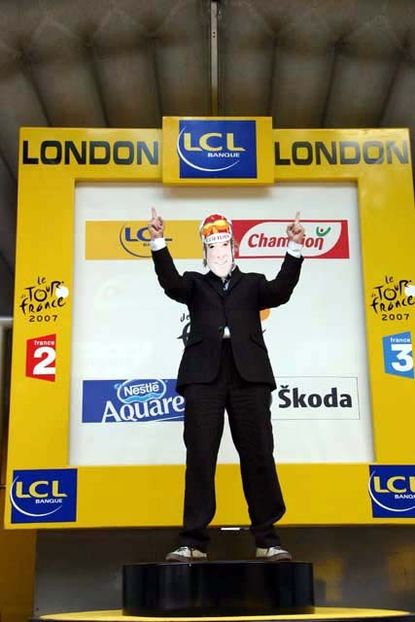 Get The Leadout Newsletter
The latest race content, interviews, features, reviews and expert buying guides, direct to your inbox!
Thank you for signing up to The Pick. You will receive a verification email shortly.
There was a problem. Please refresh the page and try again.
Friday
Day -1, London
Back on the road again. Ignore all other imitations - this is the original Idiots In A Camper Van blog.
And what a start. A weekend of five-star luxury in a top Park Lane hotel, where a bottle of dreary Budweiser beer costs an eye-watering five pounds, and the chamber staff tidy your room twice a day.
The weather is shaping up nicely. After five weeks of rain, the sun decides to shine on the Tour de France. As omens go, this is definitely A Good Thing.
But come Monday our intrepid trio - Edward Pickering, Simon Richardson and myself - will be ensconced in a camper van belonging to our Belgian photographer Luc Claessen.
Occasionally we?ll be joined by some guests - colleagues, friends, waifs, strays, people we meet along the way.
Lessons have been learned from last year - this time we have a reliable internet connection and a satellite dish to pick up French television. Oh, and Ed has passed his driving test since last year. What can possibly go wrong?
Well, only one disaster has beset the Broomwagon team so far - my shower gel burst in my washbag, covering everything in soapy gloop. If that?s the worst thing that happens this year we?ll have got away lightly.
But first, the surreal sight of the Tour de France in London. After months of anticipation, the city gave the Tour a fantastic welcome in Trafalgar Square. Thousands turned out and an enthusiastic and knowledgeable crowd cheered the star riders - and Astana.
After the riders had taken their turn on the stage, Lemar, a singer who may or may not have won a television talent show called Pop Factor or X Idol, emptied Trafalgar Square quicker than the Metropolitan Police could have possibly hoped to have done.
As the crowd disappeared into the evening, Broomwagon?s Simon wangled a VIP ticket to the Mayor?s reception, thanks to Simon Barnes of British team sponsor Plowman Craven, and promptly turned off his mobile. ?I didn?t have any signal,? he said, having spent all evening drinking expensive Champagne, which has resulted in a headache and dodgy stomach, which, frankly, serves him right.
After last year?s guilt-ridden £2000 won by backing Floyd Landis to win overall, betting fans will be interested to know I?ve gone for Frank Schleck at a hefty 50/1 and Andreas Kloden at 9/2 as my safety net for the overall win.
Any winnings will cover the cost of the dignity lost from living in a mobile home.
So tune your computer machines to our daily blog and enjoy the ride. And if you are travelling to France, look out for our Broomwagon, festooned in Cycling Weekly and Cycle Sport stickers, and come and say hello - and bring food parcels. You can even collect one of our face masks and pretend you are one of the British riders in the race.
Last night, as we walked down The Mall en route to Trafalgar Square, I took the chance to climb onto the podium wearing the Bradley Wiggins mask. If Wiggo wins today, remember, you saw it here first.
THE LOWDOWN
Where we stayed: The Intercontinental Hotel, Park Lane
What we ate: Simple Italian fare, followed by blistering desserts, at Prezzo off Park Lane
Kilometres driven so far: 0
Thank you for reading 20 articles this month* Join now for unlimited access
Enjoy your first month for just £1 / $1 / €1
*Read 5 free articles per month without a subscription
Join now for unlimited access
Try first month for just £1 / $1 / €1
Get The Leadout Newsletter
The latest race content, interviews, features, reviews and expert buying guides, direct to your inbox!
Sports journalist Lionel Birnie has written professionally for Sunday Times, Procycling and of course Cycling Weekly. He is also an author, publisher, and co-founder of The Cycling Podcast. His first experience covering the Tour de France came in 1999, and he has presented The Cycling Podcast with Richard Moore and Daniel Friebe since 2013. He founded Peloton Publishing in 2010 and has ghostwritten and published the autobiography of Sean Kelly, as well as a number of other sports icons.