Taylor Phinney wins individual pursuit gold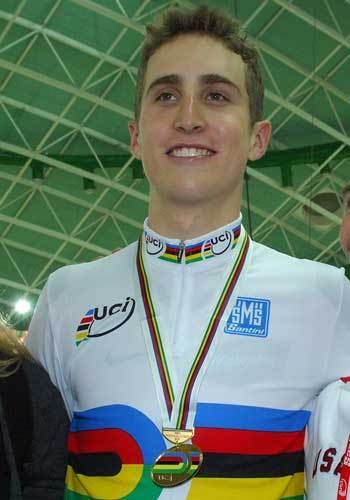 The Hub - Home for all CW's track worlds coverage
Thursday's live coverage>>>
Taylor Phinney is only 18 years old, but he has the build and easy charm of a champion.
He's got the genetics too. His mother, Connie Carpenter-Phinney won the inaugural women's Olympic road race title in Los Angeles 25 years ago. His father, Davis, was a sprinter who was part of the pioneering 7-Eleven team. He also won a stage of the Tour de France.
Phinney was one of the youngsters Jonathan Vaughters was excited about. Phinney came through the Slipstream team, but late last year, hot on the heels of the Lance Armstrong comeback, Phinney joined the Livestrong-Trek development team.
At the Copenhagen World Cup he won the individual pursuit with a time that rattled Bradley Wiggins's best. It was a 4-15 that raised eyebrows, particularly when he backed it up with victory in the kilometre time trial.
He could be on course to do the same here in Poland. Today, watched by his mother, Phinney rode 4-15.160 to coast through to the gold medal final, where he met another teenager, the Australian Jack Bobridge.
Bobridge has been a part of the Australian team pursuit squad for the past year or so, and has recently made strides on his own. There was no British challenge in an event Wiggins has made his own, winning the last two world titles and the Olympic gold.
But with Wiggins concentrating on the road this season, Britain looked set to give a chance to Ed Clancy, who won the Manchester World Cup at the start of the season, and Steven Burke, the bronze medallist in Beijing.
Three weeks before these championships Clancy broke a small bone in his foot after stubbing his toe. It wasn't serious, but set him back. Then Burke fell ill and lost a crucial few days of training. With the pair key to the team pursuit, British Cycling's management decided not to enter anyone in the individual pursuit.
Jack Bobridge put in a great performance, but couldn't beat Phinney
Phinney on his way to the world title
Phinney, widely tipped to win, capitalised fully. In the final it was very close in the early stages of his clash with Bobridge. The Australian actually sneaked into the lead at one point and after two kilometres they were level. Then Phinney turned on the power and pulled away enough to get his hands on the medal and the rainbow jersey.
Afterwards he said that although he would compete on the road this season, the big goal was still London 2012. "I'll do the track Worlds next year and the year after next, I'd think, all the way to London. That's the big goal right now," he said.
Wiggins is likely to be away from the pinnacle of individual pursuiting for a year, possibly two. The question is how the land will lie when he does return, and whether it's he or Phinney who controls pursuiting.
Results: Men's individual pursuit
1. Taylor Phinney (USA)
2. Jack Bobridge (Aus)
3. Dominique Cornu (Bel)
4. Volodymyr Diudia (Ukr)
Qualifying times
1. Taylor Phinney (USA) 4-15.160
2. Jack Bobridge (Aus) 4-17.419
3. Dominique Cornu (Bel) 4-19.197
4. Volodymyr Diudia (Ukr) 4-19.786
5. Jesse Sergent (NZl) 4-21.253
6. Sergi Escobatr Roure (Spa) 4-23.619
7. Alexei Markov (Rus) 4-23.993
8. Patrick Gretsch (Ger) 4-24.564
9. Robert Bartko (Ger) 4-26.227
10. Vitaliy Shchedov (Ukr) 4-26.508
11. Antonio Tauler (Spa) 4-26.681
12. Antonio Laverde (Col) 4-27.750
13. Levi Heimans (Ned) 4-28.638
14. Ingmar de Poortere (Bel) 4-30.089
15. David O'Loughlin (Ire) 4-32.480
16. Arnaud Depreeuw (Fra) 4-32.559
17. Valery Kaikov (Rus) 4-32.612
18. Alessandro De Marchi (Ita) 4-35.916
19. Jiri Bares (Cze) 4-39.614
20. Alexey Lyalko (Kaz) 4-43.885
DQ Adrian Kurek (Pol)
2009 UCI TRACK CYCLING WORLD CHAMPIONSHIPS
Follow Cycling Weekly on Twitter>>
RACE REPORTS
The CW Hub: Track World Championships index
Women's team pursuit: Britain clinch gold
women's team sprint: Reade and Pendleton score silver
Men's scratch race: Cavendish marked out of contention
Men's individual pursuit: Phinney wins gold
Men's team sprint: France beat Britain
Men's Points Race: Newton gets bronze
Women's individual pursuit: Houvenaghel beaten to silver
500m TT: World record for Krupeckaite, bronze for Pendleton
NEWS AND FEATURES
Track worlds day one: steady start for team GB
Why there's no Brit in the individual pursuit
No individual pursuit for Britain at track worlds
No room for complacency in British Cycling: Iain Dyer interviewCavendish in the frame for Scratch race world title bid
2009 Track Cycling World Championships preview
Crampton set to fill Sir Chris Hoy's team sprint spot
2009 World Track Champs GB squad named
Hoy to miss world track champs
Track World Championships: British medal winners
CW's Dummies' Guide to Track Racing
PHOTOS
GB RIDER PROFILES
Men
Jonathan Bellis
Steven Burke
Mark Cavendish
Ed Clancy
Matt Crampton
David Daniell
Ross Edgar
Jason Kenny
Chris Newton
Jamie Staff
Women
Lizzie Armitstead
Wendy Houvenaghel
Victoria Pendleton
Shanaze Reade
Joanna Rowsell
Jessica Varnish
RECENT RESULTS
International track results last season: 2007-2008
International track results this season: 2008-2009
2008 TRACK WORLD CHAMPIONSHIPS LINKS
Full results from the 2008 track worlds
Report: Sunday, day five>>
Report: Saturday, day four>>
Report: Friday, day three>>
Report: Thursday, day two>>
Report: Wednesday, day one>>
EXTERNAL LINKS
Track Cycling World Championships 2009 official website