Team Sky miss out on stage four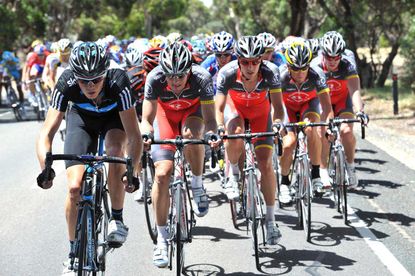 Greg Henderson finished in a disappointing 13th place in today's fourth stage of the Tour Down Under after the Sky lead out train got derailed in the run in to the sprint in Goolwa.
The British team had been well positioned behind HTC Columbia when a rider in front of Mat Hayman moved across in the wind and put his skewer in the Australian's front wheel. "I broke a bunch of spokes, it was pretty crazy out there," he said.
"If somebody comes across the front of you there's nothing you can do but brake or go off the road. Everybody's trying to get up the front, it's just a matter of sprinting up the side, it's a big whirlpool, people going everywhere. There were people hanging at 45 degrees to stay on the road, it was pretty nasty."
In the final ten kilometres Hayman incredibly managed to get a wheel change and chase his way back up to the tail of the leading group. "I was trying to get back to the boys, I was fighting and got back into last positon in bunch. Then it was crosswinds, and I was just going past guys trying to get back to them. I was seeing guys blown off the road - you'd see them in the scrub. It was really dangerous."
There was no hiding the disappointment in Hayman's face, the experienced Australian is already a key member of the Sky lead out train. "He's a crucial member in organising everyone," sprinter Greg Henderson said.
"It was pretty messy, I was feeling great I really was," Henderson continued. "I was just trying to stay with one or two team mates the whole time, and they were doing their best to keep me out of the wind."
A combination of losing Hayman and the fierce cross winds had split the Sky riders, and with one kilometre to go only Chris Sutton was left to take Henderson to the line. "I was on CJ and we were a little bit far back. I was yelling at him go, go, go to do his effort to get me in to position, but I don't know if he had it."
"I started my sprint from too far back basically. We just lacked the horse power, we lacked the men today. The calibre of all the sprinters here you can't start from that far back. I didn't have a bad day today, I was quite comfortable all day, just a bit of a cock up in the sprint."
Tour Down Under 2010: Race reports
Tour Down Under, stage four: Greipel takes his hat-trick
Tour Down Under, stage three: Cardoso takes win ahead of Valverde
Tour Down Under, stage two: Greipel takes win number two
Tour Down Under, stage one: Greipel takes back sprint crown Cancer Council Helpline Classic: Team Sky off to perfect start as Henderson wins


Tour Down Under 2010: Related links




Downing adapts to embrace new challenge
Hayman admits to nerves before Sky's debut
Tour Down Under news round-up (Jan 16)
Armstrong leads thousands on Twitter ride in Adelaide
Team Sky ready for first race
Armstrong warms up Down Under
Armstrong in Australia: "I'm in better shape than last year"
Team Sky gets ready for Tour Down Under
Tour Down Under 2010: Start list
Lance Armstrong to ride 2010 Tour Down Under
Cadel Evans and BMC to ride Tour Down Under
Tour Down Under teams confirm rosters
Davis wins 2009 Tour Down Under
Tour Down Under 2010: Photo galleries
TDU stage three photo gallery by Graham Watson
TDU stage two photo gallery by Graham Watson
TDU stage one photo gallery by Graham Watson
Cancer Council Helpline Classic
Armstrong in Adelaide


External link





Tour Down Under official website
Thank you for reading 5 articles this month* Join now for unlimited access
Enjoy your first month for just £1 / $1 / €1
*Read 5 free articles per month without a subscription
Join now for unlimited access
Try first month for just £1 / $1 / €1