Team Sky's mobile home for sale on eBay
British WorldTour squad's Eura Mobile ACTIVA vehicle is currently for sale via online auction site eBay, with bids currently at £22,200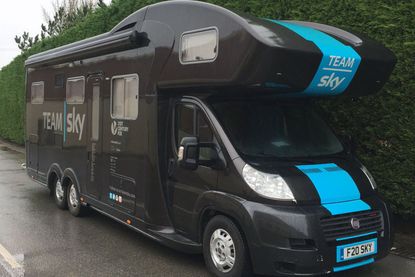 (Image credit: eBay)
A rather unusual piece of cycling memorabilia is currently for sale via online auction website eBay (opens in new tab) - one of Team Sky's mobile homes.
Many squads sell off their team bikes and equipment at the end of the season, but it is not often that you see such a large vehicle for sale.
The mobile home appears to be in first class condition, and according to the seller - a service centre on behalf of the squad - it has been used by Tour de France winners Sir Bradley Wiggins and Chris Froome among other Sky riders.
>>> Inside Team Sky's fleet of Giro d'Italia vehicles
The six-berth, 8.65-metre long Eura Mobile Activa 820HS 3.0L Tag Axle Motorhome's spec includes fully-equipped kitchen, large U-shaped lounge area, air conditioning/heating, washroom and separate shower, reversing camera, awning and reversing camera. The 2009 model has 102,000 miles on the clock, with the current registration plate of F20 SKY.
Currently, the vehicle has attracted 15 bids up to £22,200 from a starting price of £15,000. The auction ends on November 16.
Although the vehicle is pictured with Team Sky logos, these will apparently be removed immediately after the sale is confirmed - although the seller has said they can arrange some photos to be taken showing the winning bidder with the vehicle in full team guise.
The seller states that the riders names on the door can remain as a memento.
Thank you for reading 5 articles this month* Join now for unlimited access
Enjoy your first month for just £1 / $1 / €1
*Read 5 free articles per month without a subscription
Join now for unlimited access
Try first month for just £1 / $1 / €1