Tension rises over Contador's clenbuterol case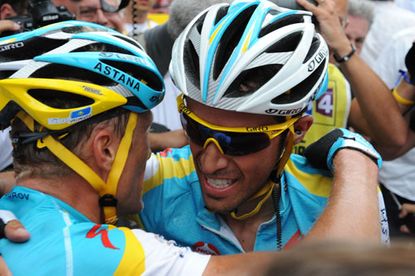 As the countdown begins towards the publication of the UCI's report on Alberto Contador - current rumours indicate the most possible release date as the middle of next week - the Spaniard has counter-attacked after a series of potentially libelous reports have been published.
Contador's press officer Jacinto Vidarte issued a statement on Friday in which the rider promised legal action against "defamatory information published so far by various media and websites, due to their lack of veracity."
In the same document Contador reaffirmed his innocence, referring to scientific reports provided by the UCI and his biological passport: he also insisted the clenbuterol found in his organism was present solely as a result of food contamination.
Contador's latest communique came just hours after a Belgian magazine, Humo, published what it claims to be an interview with an alleged anonymous inside source in Astana saying Contador's positive had come about after a blood transfusion in June.
Last night when the Spaniard travelled to the city of Valladolid to receive a prize from a sports and cultural association, he took advantage of the ceremony to dedicate the award to "all those people who continue to support me."
Amongst them, Contador can certainly include his home town of Pinto. The local council has put up huge yellow banners in the town hall as a sign of solidarity with Contador, and has distributed leaflets urging the population to decorate their windows and balconies in the same way.
Meanwhile, a Spanish newspaper claims the director of the German laboratory which revealed Alberto Contador's positive for clenbuterol has told them that the banned substance could have shown up through contaminated meat.
However, when Cycling Weekly contacted the German lab directly to ask about the story, they refused pointblank to make any comment.
"When it comes to an evaluation [of the positive], the problem about the food should be considered," Cologne laboratory boss Wilhelm Schanzer is reported as saying in an interview published with Spanish sports daily MARCA.
"I'd also add in additional results from the other anti-doping controls, along with problems that could be caused by animals in the area [from which the beef came] being treated with doping substances."
According to MARCA, Schanzer also explained why he had bothered to look for such a minimal quantity of clenbuterol in Contador's urine sample, saying that "clenbuterol is a substance used in very small quantities."
In the same interview, Schanzer also revealed that the test used on Contador in Germany which produced the 'positive' for plasticizers - the tiny traces of plastic found, amongst other things, in the bags used for blood transfusions - is not the same as a new Spanish one, developed by Barcelona Anti-Doping lab boss Jordi Segura, as had previously been reported. Instead, Schanzer reportedly said, it is "similar."
Schanzer apparently told MARCA that the new German test - unlike the Spanish one - has yet to be published in a magazine, one of the most important standard benchmarks for it to be scientifically validated.
Any results from it would therefore probably be less likely to stand up in a court of law or to back up a doping case, although Segura has also now also said that his plasticizers test, too "is not ready to be used to accuse somebody of something." because the Spanish scientists responsible for the test have not ruled out "all the variables that could cause those sorts of results."
When Cycling Weekly attempted to contact the Cologne laboratory and confirm that Mr Schanzer had spoken to the Spanish press or discuss the claims that it had come up with their own method that could reveal plasticizers, the lab stated they had no comment to make.
If the article about the similar German test is confirmed - which it has yet to be - it could make it more likely that any scientific case against Contador will stand or fall alone on the positive for clenbuterol, and less likely that any results from a plasticizer test, however many times over a theoretical minimum they may be, can be used.
But if Contador is getting tougher over the constant speculation as to what caused his positive, he is not alone. The Spanish regional authorities have just issued a strong denial yet that any of their meat products in the area, regardless of where they came from, could be contaminated.
The Basque Country's health department said in a press release that testing was carried out on all foodstuffs, foreign or otherwise. With Contador still adamant that his positive has been caused by contaminated foodstuffs from beef brought in the area, the speculation seems bound to continue - at least until the UCI produces their report.
Related links
Seven more Spanish cyclists under investigation for doping
Contador case splits experts' opinions
Thank you for reading 20 articles this month* Join now for unlimited access
Enjoy your first month for just £1 / $1 / €1
*Read 5 free articles per month without a subscription
Join now for unlimited access
Try first month for just £1 / $1 / €1