The many different faces of Fabio Aru
Fabio Aru is close to overtaking Thomas Voeckler's crown of being the peloton's biggest gurner. Here's are some of his best facial expressions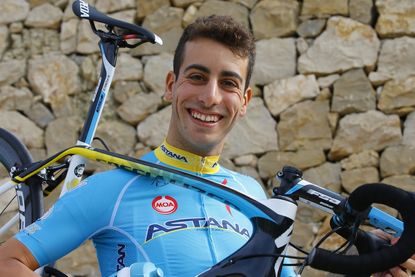 (Image credit: Watson)
It's quite a coincidence that Astana rider Fabio Aru looks a fair bit like former Labour leader Ed Milliband, given his tendancy to be photographed at the most inopportune moments.
Like the politician, Aru seems to have a knack for pulling quite odd faces - although he's doing it while trying to win bike races, not eating bacon sandwiches - and like the politician there are always plenty of cameras around to snap him.
Thomas Voeckler may be nearing the end of his career as a professional cyclist, but when he hangs up his wheels he can do so safe in the knowledge that Aru will take up the mantle of being the peloton's best gurner.
We can split Aru's many different facial expressions into two categories - Happy Aru and Pained Aru. Take a look at some of our favourites.
Happy Aru
Aru was clearly very happy to finish second overall to Alberto Contador in the 2015 Giro d'Italia.
When he wins a stage, like these ones at the Giro and Vuelta, he shows us just how wide he can open his mouth.
At the Vuelta a España, though, Aru found something with as wide as smile as him: the orange donkey mascot.
But he never looks happier than when in the leader's jersey of a Grand Tour, like at this year's Vuelta.
Pained Aru
While he's all smiles before and after the stages, during the race he's all about the gurning. He lost over two minutes to rival Contador on stage 16 of the 2015 Giro and this was what he looked like up the final ascent.
It's not just the Grand Tours where he shows us the dexterity in his face - this shot comes from stage six of the Tour of Poland...
Back to the Giro d'Italia and Aru grimmaced his way to victory on stage 20 of the race - his second consecutive stage win - up the Colle de la Finestre
On stage 11 of the Vuelta he smashed the final climb to finish second behind teammate Mikel Landa, taking the leader's jersey, and allowed himself a huge exhale as he crossed the line.
On a misty stage 14, Aru was foaming at the mouth as he crossed the finish line in ninth to retain his lead in the race.
One thing is for sure, though: the faces Aru pulls must be working as even at the tender age of 25 he's already proving himself to be one of the best Grand Tour riders in the peloton.
Long live the gurning!
Thank you for reading 20 articles this month* Join now for unlimited access
Enjoy your first month for just £1 / $1 / €1
*Read 5 free articles per month without a subscription
Join now for unlimited access
Try first month for just £1 / $1 / €1