Voeckler and Tinkov in Twitter spat over Russian's plans for cycling reforms
The veteran French rider took exception to the oligarch's comments on Twitter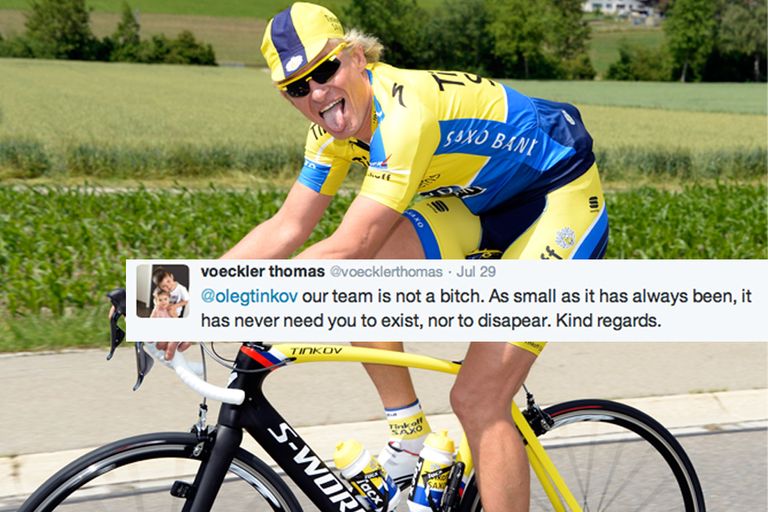 Never one to shy away from a debate, or indeed from tweeting about one prolifically, Oleg Tinkov has earned the scorn of Thomas Voeckler with his latest thoughts on reforming cycling's WorldTour.
The Russian's outpouring was originally concerned with sponsors withdrawing from professional cycling due to the unfavourable conditions of the business, and on this he had ideas for reform. Chief among his plans were a new transfer system and salary cap for teams, a system to manoeuvre around the UCI and more financial input from race organisers.
Tinkov called on Velon, the organisation of cycling teams that aims to "create a new economic future" for cycling, to team up with race organisers, namely the Tour de France's owner ASO, to create a rival to the UCI's WorldTour.
So far, nothing we haven't heard before. But following this, Tinkov directed his comments towards ASO's Christian Prudhomme.
Then took encouragement from his social media audience with a new idea to buy up enough teams to create his own Grand Tour.
It wasn't until Tinkov called himself King Oleg that Voeckler waded in.
Voeckler's dislike for what he'd read was clear to see, but Tinkov had to have to last word.
Tinkov is known for being outspoken, previously threatening to cut an under-performing Peter Sagan's salary, offering top riders €1m to ride all three Grand Tours and for the departure of team manager Bjarn Riis.
Thank you for reading 5 articles this month* Join now for unlimited access
Enjoy your first month for just £1 / $1 / €1
*Read 5 free articles per month without a subscription
Join now for unlimited access
Try first month for just £1 / $1 / €1
Jack Elton-Walters hails from the Isle of Wight, and would be quick to tell anyone that it's his favourite place to ride. He has covered a varied range of topics for Cycling Weekly, producing articles focusing on tech, professional racing as well as cycling culture. He moved on to work for Cyclist magazine in 2017.