Tour of Britain goes mad for Wiggins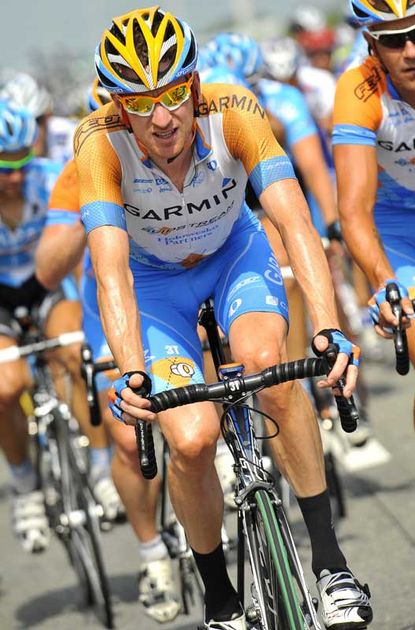 The Tour of Britain has gone Bradley Wiggins mad. Before the start and after the finish of Saturday's first stage from Scunthorpe to York, Wiggins was mobbed by crowds, with hundreds of young children asking for autographs and photographs.
Copies of his autobiography, posters and issues of Cycling Weekly were all held out for his autograph. Without the pressures of performing at the Tour de France, Wiggins was happy to sit on the step of the Garmin bus and sign hundreds of them. Lance Armstrong gets similar attention at races but there were far more young faces in the British crowd who seem to have adopted Wiggins as their hero.
"It's really nice. I didn't quite realise it'd be like this," he told Cycling Weekly with a smile.
"I came back from the Olympics last year and it was nothing like this. It shows how big cycling is getting in the UK."
Wiggins has been modest about his aims and hopes for the Tour of Britain but he was in the thick of the action, helping CJ Sutton during the stage and especially in the hectic sprint.
"I was trying to help him all day. Right at the end we timed it perfect for him. It was good and great to see him win after so many second places this year," Wiggins said, revealing on Twitter that he is also sharing a room with Sutton during the Tour of Britain.
Wiggins couldn't resist a dig at his Team Columbia rivals, pointing out that Garmin have been racking up race victories almost as quickly as when Mark Cavendish dominates the sprints.
"That's three wins in 24 hours now. We're nearly getting on terms with Team Columbia on terms of averages. It's brilliant," he said.
Swift third after Katyusha lead out
Ben Swift (Katyusha) finished a close third place in the opening sprint at the Tour of Britain in York.
With the stage passing through Swift's home county of Yorkshire, Katuysha decided to give Swift a chance in the sprint and team leaders Filippo Pozzato and Danilo Napolitano were happy to ride for their young team mate.
Swift was well positioned in the final kilometre but admitted he started his sprint a little too early and was unable to get past CJ Sutton. The young Aussie hit the line first with Italy's Michele Merlo (Barloworld) second ahead of Swift.
"It's a good way to start the Tour of Britain. Pozzato and Napolitano decided to ride for me which is nice of them," Swift told Cycling Weekly.
"I was on Napolitano's wheel. He went left but I went to the right and got on CJ's wheel. He got into a bit of a box but then we got out luckily."
"I came out into the wind but CJ was going really fast. It's the first time I've sprinted against him and I came off him a bit too soon. He didn't slow down and I died a little bit near the end. I haven't raced since the Coppa Bernocchi in mid-August and I've been a bit ill, so pretty happy with that."
Thank you for reading 20 articles this month* Join now for unlimited access
Enjoy your first month for just £1 / $1 / €1
*Read 5 free articles per month without a subscription
Join now for unlimited access
Try first month for just £1 / $1 / €1