Tour of Lombardy changes course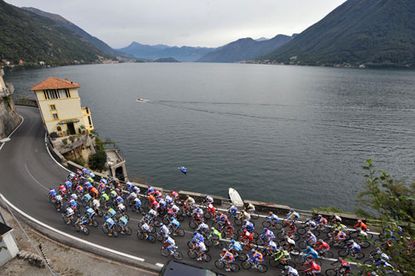 The Tour of Lombardy on October 16 will run from Milan to Como for the first time in 26 years, since 1984 when France's Bernhard Hinault won. Organiser RCS Sport announced today the change, which also includes an 1124-metre climb to Colma di Sormano.
"It is the hardest [Monument]. Our claim is that hard is great," said RCS Sport race director, Angelo Zomegnan. "Lombardy is not a classic to be taken lightly."
Lombardy will start in the centre of Milan as does the first Monument of the year, Milan-San Remo. After reaching Como, the route is similar to the last six years: up the west side of Lake Como, then down the east side, and up to Bellagio to confront the Madonna di Ghisallo. Instead of descending completely down to climb the Civiglio, this year the race will take a right and climb up the Colma di Sormano, 9.6 kilometres and 627 metres of climbing.
After a technical route along the lake, the race will again close in Como with the San Fermo della Battaglia climb. The race is 260 kilometres plus a neutral start of around five kilometres.
"The kilometres are a little bit more, but the distance and climbing is more or less the same as before," said Zomegnan.
"We abandon the roads to Civiglio to confront to Colma di Sormano and the descent to Nesso, which gives us the chance to head along the lake to Como. The lake and Como are known around the world and gives the race an added value. We want to take advantage it and show it to the world on television."
The race is the symbolic closer to the cycling season and is the last of cycling's five Monuments: Milan-San Remo, the Tour of Flanders, Paris-Roubaix, Liège-Bastogne-Liège and the Tour of Lombardy.
The race began in 1905, racing from Milan to Milan, and two years later, it became known as the Tour of Lombardy. In the 1920s, organisers introduced the climb to the Madonna del Ghisallo.
Brit Tom Simpson won the race in 1965 when the race ran from Milan to Como. From 1995 to 2003, it finished in the upper city of Bergamo. Since 2004, the race has finished back in Como. Belgian Philippe Gilbert won last year when the race started in Varese and ended in Como.
Despite climb to Sormano, the race avoids the Muro di Sormano. The Muro di Sormano was used in 1960 to 1962 and is now open to only cyclists and pedestrians. The road is too small and too steep for one of cycling's big races: two kilometres long and a rise of 304 metres, with gradients of 20 per cent.
Thank you for reading 20 articles this month* Join now for unlimited access
Enjoy your first month for just £1 / $1 / €1
*Read 5 free articles per month without a subscription
Join now for unlimited access
Try first month for just £1 / $1 / €1