Track World Championships: British medal winners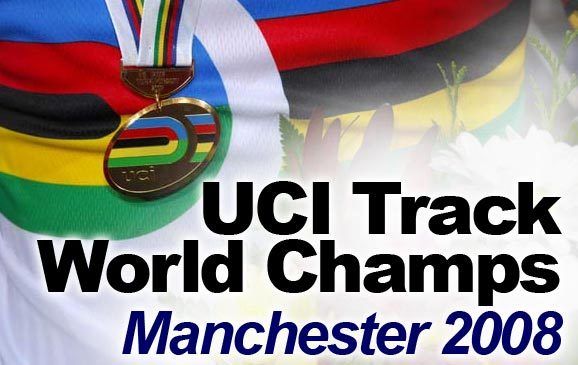 Cycling Weekly takes a look back at the British track heroes of the recent and not-so-recent past.
Here?s an event-by-event roll call of the men and women who have won World Championship gold, silver and bronze for Britain on the boards.
The distinction between professional and amateur events is made until the sport went open. All professional and open results are presented in the tables, amateur results are listed separately.
Men's Sprint
1896 C.F. Barden
| | | | |
| --- | --- | --- | --- |
| Year | Gold | Silver | Bronze |
| 1897 | | C.F. Barden | |
| 1920 | | | W.J. Balley |
| 1949 | Reg Harris | | |
| 1950 | Reg Harris | | |
| 1951 | Reg Harris | | |
| 1953 | | | Reg Harris |
| 1954 | Reg Harris | | |
| 1956 | | Reg Harris | |
| 2006 | | Craig MacLean | |
| 2008 | Chris Hoy | | |
Amateur gold medallists
T Summersgill 1899
AL Reed 1903
JS Benyon 1905
VL Johnson 1908
WJ Bailey 1909, 1910, 1911, 1913
HT Johnson 1922
Reg Harris 1947
Cyril Peacock 1954
Women's Sprint
1958  J. Dunn
Year
Gold
Silver
Bronze
1959
J. Dunn
1960
J. Dunn
1961
J. Dunn
1962
J. Dunn
2005
Victoria Pendleton
2006
Victoria Pendleton
2007
Victoria Pendleton
2008
Victoria Pendleton
Women's Team Sprint
2007Victoria Pendleton/Shanaze Reade  2008Victoria Pendleton/Shanaze Reade
Men's 1km Time Trial
2000  Jason Queally
Year
Gold
Silver
Bronze
2002
Chris Hoy
2004
Chris Hoy
2005
Jason Queally
Chris Hoy
2006
Chris Hoy
2007
Chris Hoy
Jamie Staff
Men's Points Race
1987 Tony Doyle
Year
Gold
Silver
Bronze
2002
Chris Newton
Men's Madison
Year
Gold
Silver
Bronze
2005
Rob Hayles & Mark Cavendish
2008
Bradley Wiggins & Mark Cavendish
Women's Points Race
1988Sally Hodge
Men's Individual Pursuit
1967 Hugh Porter
Year
Gold
Silver
Bronze
1968
Hugh Porter
1970
Hugh Porter
1971
Hugh Porter
1972
Hugh Porter
1973
Hugh Porter
1977
Steve Heffermann
1980
Tony Doyle
1984
Tony Doyle
1985
Tony Doyle
1986
Tony Doyle
1987
Tony Doyle
1988
Tony Doyle
1989
Colin Sturgess
1991
Shaun Wallace
Colin Sturgess
1992
Shaun Wallace
1993
Graeme Obree
Chris Boardman
1994
Chris Boardman
1995
Graeme Obree
1996
Chris Boardman
2000
Rob Hayles
2003
Bradley Wiggins
2004
Rob Hayles
2006
Paul Manning
2007
Bradley Wiggins
2008
Bradley Wiggins
Amateur gold medallists
Norman Sheil 1955, 1958
Women's Individual Pursuit
1958  K. Ray
Year
Gold
Silver
Bronze
1959
Beryl Burton
1960
Beryl Burton
1961
Beryl Burton
1962
Beryl Burton
1963
Beryl Burton
1964
Beryl Burton
1966
Beryl Burton
1967
Beryl Burton
1968
Beryl Burton
1970
Beryl Burton
1973
Beryl Burton
1975
Beryl Burton
1997
Yvonne Mcgregor
2000
Yvonne Mcgregor
2007
Rebecca Romero
2008
Rebecca Romero
Men's Team Pursuit
1973 Great Britain

| | | | |
| --- | --- | --- | --- |
| Year | Gold | Silver | Bronze |
| 2000 | | Great Britain | |
| 2001 | | Great Britain | |
| 2002 | | | Great Britain |
| 2003 | | Great Britain | |
| 2004 | | Great Britain | |
| 2005 | Great Britain | | |
| 2006 | | Great Britain | |
| 2007 | Great Britain | | |
| 2008 | Great Britain | | |
Men's Team Sprint
1999 Great Britain
| | | | |
| --- | --- | --- | --- |
| Year | Gold | Silver | Bronze |
| 2000 | | Great Britain | |
| 2001 | | | Great Britain |
| 2002 | Great Britain | | |
| 2003 | | | Great Britain |
| 2004 | | | Great Britain |
| 2005 | Great Britain | | |
| 2006 | | Great Britain | |
| 2007 | | Great Britain | |
| 2008 | | Great Britain | |
Men's Keirin
1983  G. Hatton
| | | | |
| --- | --- | --- | --- |
| Year | Gold | Silver | Bronze |
| 2004 | Jamie Staff | | |
| 2007 | Chris Hoy | | Ross Edgar |
| 2008 | Chris Hoy | | |
Women's Keirin
| | | | |
| --- | --- | --- | --- |
| Year | Gold | Silver | Bronze |
| 2007 | Victoria Pendleton | | |
| 2008 | | Victoria Pendleton | |
Men's Scratch
| | | | |
| --- | --- | --- | --- |
| Year | Gold | Silver | Bronze |
| 2002 | | Tony Gibb | |
2008 TRACK WORLD CHAMPIONSHIPS: DAILY REPORTS
Sunday, day five>>
Saturday, day four>>
Friday, day three>>
Thursday, day two>>
Wednesday, day one>>