TRACK WORLD CHAMPS DAY TWO: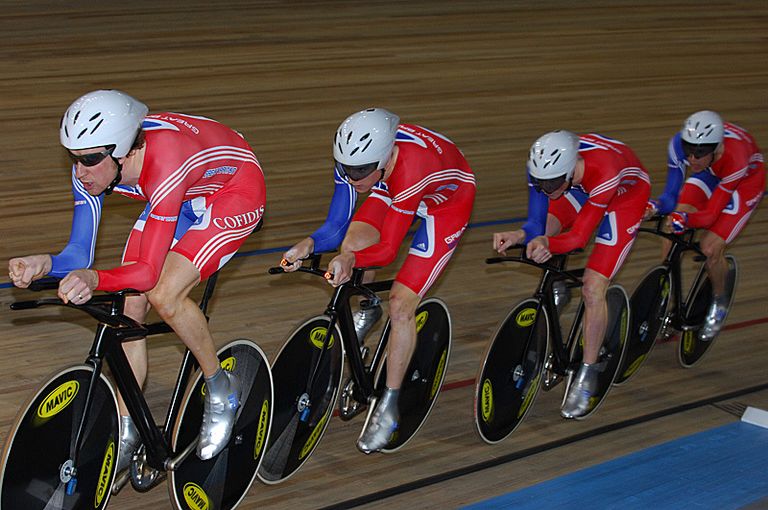 Update: Men's team pursuit qualifier kicks off day's racing
This morning's racing kicks off with the men'ts team pursuit qualifying rounds. Great Britain's quartet of Ed Clancy, Geraint Thomas, Paul Manning and Bradley Wiggins are due off in eleventh place of the 12 teams.
CW chatted briefly with British Cycling Performance director this morning and he reported all was well in the British camp following their two golds and a silver medal on Thursday evening. "We're raring to go." he said.
Update:Spain make promising start then lose the plot
A strong start by Spain in the men's team pursuit qualifying rounds - they were clocking faster times than the provisional best set by Russia - disintegrated when their third man lost contact in the closing laps. After much headshaking, slowing down and a final regrouping, Spain - bronze medallists in Athens - crossed the line two seconds slower than the Russians. Just minutes later and after six teams had competed, Denmark now have set the provisional best time of 4-05-307.
Update:Britain in fight for gold after clocking under four minutes
Great Britain stormed into the fight for gold in the men's team pursuit qualifying rounds after clocking a superb time of 3-59-579. In a faultless performance, Great Britain were over five seconds faster than provisional best time set by the Ukraine of 4-05-039. But their arch-rivals Australia still have to ride.
Update:GB versus Ukraine, Denmark versus NZ
After four times World Champions Australia slid to a disappointing sixth in the classifying rounds of the men's team pursuit, Great Britain will be taking on the Ukraine for gold or silver, whilst Denmark will be battling it out with New Zealand for bronze. The team pursuit final is scheduled for 8 pm local time, 7pm UK time. This will be GB's fourth medal in the World Championships.
Next up after a short break is the women's sprint qualifying round over 200 metres. Taking part for Great Britain will be Victoria Pendleton (already a gold medal in the women's team sprint) and promising young rider Anna Blyth.
Update:Pendleton and Blyth qualify comfortably for next round of women's sprint
Anna Blyth and Victoria Pendleton have both posted top ten places to qualify comfortably for the next round of the women's sprint.
Fastest in the opening round was Chinese women Shuang Gijo with a time of 11.149. Pendelton was close behind, clocking a time of 11.194 whilst Anna Blyth finished in 11.497.
Next up is the women's individual pursuit qualifying rounds. Rebecca Romera takes on Frenchwoman Cathy Moncassin and Wendy Houvenaghel is set against Colombian Maria Luis Calle.
Update:Romero sets provisional best time
Rebecca Romero has set the provisional best time for the qualifying rounds. Her time of 3-31.894 put the Briton in the lead. After a 'slow' start, where she was third best at the 1000 metre mark, Romero opened up the throttle to set the best time for 2000 metres and over-take her rival Cathy Moncassin before the finish.
Update:Houvenaghel sets second provisional fastest time
Wendy Houvenaghel has set the second provisional fastest time for the qualifying rounds: only her team-mate Rebecca Romero has been able to beat her time of 3-35.289 . Houvenhagel was given a close run for her money by Colombian Maria Luisa Calle, who set the third fastest time after a very slow start.
Update:Hammer vs Romero for gold, Mactier vs Houvenaghel for bronze
Great Britain will be riding for gold and bronze in the woman's individual pursuit. American Sarah Hammer clocked a time of 3-31.359, a fraction faster than Rebecca Romero, whilst Wendy Houvenhagel will take on Australian Olympic silver medallist and 2005 World Champion Katy Mactier.
Update:Pendleton beats Bayley
Victoria Pendleton has beaten Australian Kristine Bayley to go through to the next round of the Women's sprint. Bayley received a warning from the jury for going off her line.
Update:Blyth gets through to next round
Anna Blyth has won a tight sprint against Jennie Reed of the USA to join Vicky Pendleton in the next round of the Women's sprint.
Update:Hoy through, Pendleton outguns Blyth
Chris Hoy has won his round of the keirin to make it through to the next round this evening at 1930 local time. Vicky Pendleton then outsprinted Anna Blyth in the 1:8 round of the women's sprint. Blyth may yet make it back in thanks to the repechage.
Update:Bellis through to scratch final
Jonathan Bellis made it through to the scratch final this evening. Bellis finished in the main pack in the qualifying heat.
After another qualifying heat with no British riders, racing resumes at 1900 local time with the women's individual pursuit, where Britain is racing for the gold and the bronze.
FULL REPORT TO FOLLOW...
Click here to go to the results page