Two riders clock up 323 miles riding around Richmond Park for 24 hours
Chris Hall and Chris Pressdee cycled around (and around) Richmond Park in London for 24 hours over the weekend to raise money for charity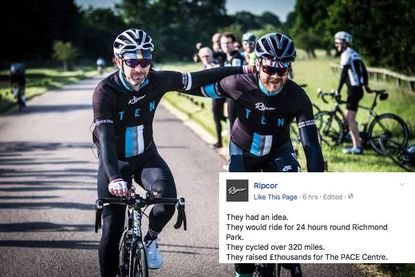 (Image credit: Ripcor)
Many London cyclists use Richmond Park as part of their regular rides – but two riders took it to the extreme last weekend when they rode for 24 hours and clocked up 323 miles (520km).
Chris Hall and Chris Pressdee set out to ride as far as they could around Richmond Park without leaving the environs of London's famous green space.
Along the way, the duo were joined by friends for various stints during the day and night as they took in lap after lap of the park.
Jason Bradbury, the presenter of Channel 5 television programme the Gadget Show, rode alongside them with his son for a while having spotted news of their attempt on Twitter.
The duo finished the ride arm-in-arm on Sunday in front of a large group of supporters.
According to a photo of Hall's Garmin bike computer posted on his Strava account, they rode at an average speed of 13.45mph during the charity-fundraising challenge.
They also tallied up well over 13,000 feet (4000 metres) of climbing and burned just under 6000 calories each.
Both riders are part of Team Ripcor, who regularly undertake cycling challenges to raise funds for the PACE Centre, a school for children with motor-neurone disorders.
Thank you for reading 5 articles this month* Join now for unlimited access
Enjoy your first month for just £1 / $1 / €1
*Read 5 free articles per month without a subscription
Join now for unlimited access
Try first month for just £1 / $1 / €1