UCI responds to ASO's withdrawal from WorldTour
"The UCI remains committed to implementing the reforms which were agreed as part of [an] extensive consultation process"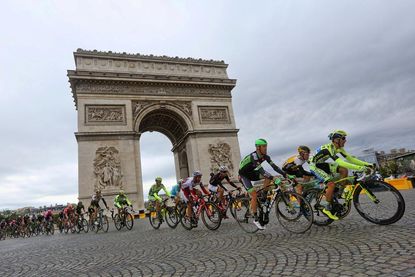 (Image credit: Watson)
The UCI says it is committed to the evolution of cycling, despite the organiser of the Tour de France announcing it will withdraw its races from the WorldTour calendar in 2017.
ASO says it will pull the Tour de France and its other races from the UCI's calendar, reclassifying the events as hors classe, meaning that it in theory the WorldTour teams will have to be invited to race, rather than being automatically entered.
In a statement on Friday, the UCI says its proposed reforms will offer stability for all stakeholders, which will allow the sport to continue to grow worldwide.
"The reform of men's professional road cycling, which will enable sensible and gradual evolution of this important part of our sport, was approved by the Professional Cycling Council (PCC) in June and ratified by the UCI Management Committee in September," the release read.
"It has been developed over two years of very detailed and open dialogue and consultation amongst a diverse group of stakeholders, including race organisers, teams and riders. The reform will offer stability for all, and will allow our sport to grow sustainably while protecting the interests of existing stakeholders.
"The UCI remains committed to implementing the reforms which were agreed as part of this extensive consultation process and which the UCI believes properly balances the interests of all those involved in professional cycling."
ASO owns the rights to a number of WorldTour races, including Paris-Nice, Paris-Roubaix and Liege-Bastogne-Liege, although it is not yet clear if all of these races will be affected by the company's decision.
Thank you for reading 20 articles this month* Join now for unlimited access
Enjoy your first month for just £1 / $1 / €1
*Read 5 free articles per month without a subscription
Join now for unlimited access
Try first month for just £1 / $1 / €1