Valverde complains about Italians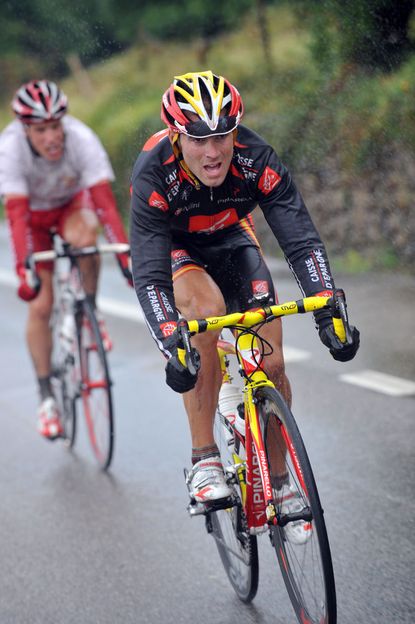 Get The Leadout Newsletter
The latest race content, interviews, features, reviews and expert buying guides, direct to your inbox!
Thank you for signing up to The Pick. You will receive a verification email shortly.
There was a problem. Please refresh the page and try again.
Spanish professional rider Alejandro Valverde has lodged a complaint against the Italian Olympic Committee (CONI) regarding his scheduled disciplinary hearing on Monday in relation to doping charges.
Valverde is due to appear in front of CONI in Rome, Italy, on Monday (May 11), to answer allegations that he was involved in the organised doping ring exposed by Operacion Puerto. CONI alleges that blood bags containing traces of EPO found in the Madrid laboratory of Dr Eufemiano Fuentes marked 'Valv.Piti' belong to Valverde.
In a statement issued by Valverde on Wednesday, he claimed that CONI's anti-doping prosecutor Ettore Torri is ignoring a Spanish judge who has said that evidence obtained in Spain cannot be used in an Italian investigation.
The Caisse d'Epargne rider wants his case heard in Spain, in front of the Spanish Cycling Federation.
SPANISH, UCI AND WADA JOIN THE PARTY
Earlier this week, the Spanish Cycling Federation announced that it would be present at Valverde's hearing in Rome on Monday. Also present will be representatives from the Union Cycliste Internationale and the World Anti-Doping Agency.
CONI would like to see Valverde banned from competing in Italy for two years if found guilty of doping - this would exclude him from riding in this year's Tour de France as the race visits Italy this year.
Throughout the past two years as this case has rumbled on, Valverde has always maintained that he has never been involved in doping and has vowed to clear his name.
One definitive way he could do this is to provide a DNA sample and prove once and for all that the blood obtained from Fuentes lab was not his. So, how about it?
RELATED LINKS
Comment: End this Valverde Farce
Italians set Valverde disciplinary hearing for May 11
Alejandro Valverde: Rider Profile
April 1, 2009: Valverde set to be banned from racing in Italy
March 25, 2009: Valverde wins stage 3 of Castilla y Leon
February 12, 2009: Valverde fights back over Puerto accusations
July 5, 2008: Is Valverde's win a good thing for the Tour de France?
January 11, 2008: Valverde back in anti-doping spotlight (again)
September 25, 2007: Valverde cleared by Puerto judge
September 18, 2007: UCI says it has new information on Valverde
August 30, 2007: Valverde expected to hand over DNA sample
August 30, 2007: Valverde banned from Worlds
Thank you for reading 20 articles this month* Join now for unlimited access
Enjoy your first month for just £1 / $1 / €1
*Read 5 free articles per month without a subscription
Join now for unlimited access
Try first month for just £1 / $1 / €1