Valverde faces worldwide ban after losing appeal against Italian suspension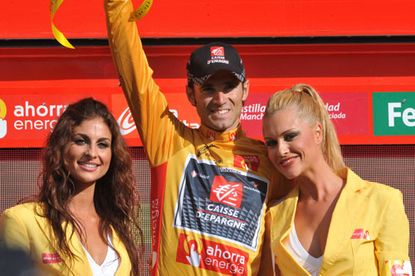 Spanish professional rider Alejandro Valverde has had his appeal against a two-year ban from competition in Italy thrown out by the Court of Arbitration for Sport. He now faces an international suspension.


Valverde had been hoping that CAS would overturn the two-year ban imposed by the Italian Olympic Committee (CONI) on May 11 2009. However, CAS found that the evidence and process used by CONI to place the ban on Valverde was entirely sound and within its jurisdiction.
The CAS appeal panel concluded: "...that the CONI had jurisdiction to render the decision under appeal before the CAS and that the evidence analyzed by the judicial authorities and used in the CONI proceedings was not only admissible but also relevant and could reasonably lead to the outcome determined by the CONI Anti-Doping Tribunal. Finally, the CAS Panel ruled that the sanction was proportionate to the violation of the CONI regulations by Alejandro Valverde."
Responding quickly to the news from CAS, the Union Cycliste Internationale (UCI) published its own statement saying that it would now seek an international ban from competition for the Caisse d'Epargne rider.
The UCI statement said: "The UCI welcomes the decision of the CAS, which confirms the conclusions the UCI reached after conducting a thorough review of the documents relating to the Puerto case, and of Alejandro Valverde's involvement in it.
"Consequently, after careful study of the grounds of the CAS decision, the UCI expresses its determination to take the necessary measures to secure a suspension that is applicable internationally."
CONI's case for banning Valverde hinged on the DNA match between a blood sample taken from the Spaniard during a stage of the 2008 Tour de France and the contents of a blood bag taken from the Madrid laboratory of Dr Eufemiano Fuentes during the Operacion Puerto doping investigation. A sample from the bag was tested and found to contain traces of banned blood-boosting drug EPO.
Valverde's ban from racing in Italy meant that he could not take part in the 2009 Tour de France, which entered Italian soil. However, it has not stopped him from competing in races outside Italy, and he placed second behind Alberto Contador at Paris-Nice at the weekend as well as winning the Tour of the Mediterranean in February.
If Valverde's ban is extended beyond the bounds of Italy, he may find himself stripped of all results achieved since May 11 2009. And depending on how far-reaching the UCI's sanctions are, all of Valverde's results since Operacion Puerto in May 2006 may also be thrown into doubt.
Valverde's current ban in Italy is due to expire on May 10, 2011.
Related links
19 June 2009: Valverde appeals against Italian ban
11 May 2009: Valverde banned from racing in Italy for two years
Thank you for reading 5 articles this month* Join now for unlimited access
Enjoy your first month for just £1 / $1 / €1
*Read 5 free articles per month without a subscription
Join now for unlimited access
Try first month for just £1 / $1 / €1