Victoria Pendleton in 'Look After Your Bottle' Gatorade TV ad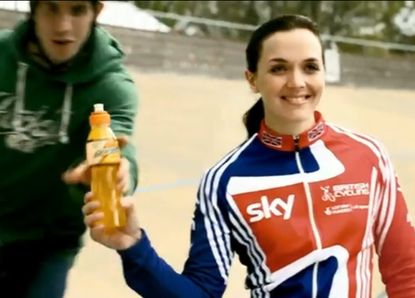 The latest in the growing portfolio of TV ads by the multiple Olympic Gold Medal winner Victoria Pendleton is this new one for Gatorade. And what a hoot it is.
Filmed at Herne Hill velodrome and the Crystal Palace National Sports Centre, the one minute film shows a young artful dodger type on a trials bike swiping Miss P's bottle from her hand at a Gatorade photo shoot.
High jinks and jolly larks ensue as the fiesty cycling Goddess, who isn't having any of it, chases the Herbert all over the shop, the only problem being that our villain is none other than top UK trials rider Ali Clarkson who takes any route other than the immaculately smooth surface that Olympic Gold Medal winning track cyclists prefer to do battle on.
We won't spoil the end but will direct you to the 'Making of....' vid which is also here for your amusement.
Thank you for reading 20 articles this month* Join now for unlimited access
Enjoy your first month for just £1 / $1 / €1
*Read 5 free articles per month without a subscription
Join now for unlimited access
Try first month for just £1 / $1 / €1