VINO'S TOUR CHANCES IN DOUBT AFTER CRASH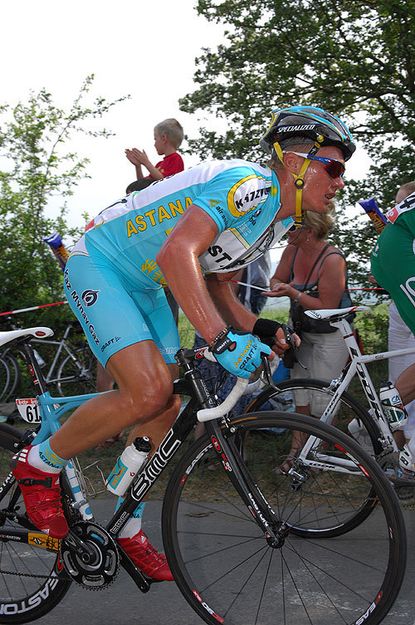 Click here to watch video highlights of stage five.
Alexandre Vinokourov discovered the hard way that he and his Astana team have few friends in the Tour de France peloton, when nobody waited for him after a late crash during stage five meant he lost 1-20 to his overall rivals.
In a terrible day for Astana, fellow team leader Andreas Kloden also crashed earlier in the stage and the German rider has a suspected coccyx bone fracture in his lower back. It is unsure if he will start Friday?s stage and even if he does, he may be in too much pain to be an overall contender.
When Vinokourov tumbled 25km from the finish, as the peloton accelerated before the final climb, the other riders did not wait for him to catch-up. Vino initially chased with seven team mates and then powered on alone but still finished 1-20 behind stage winner Filippo Pozzato (Liquigas) and all his main overall rivals.
Vinokourov did not stop to talk to the press after the stage but his team revealed the crash was caused by a jumping chain. Vino hurt both knees and had a huge bruise on his right buttock, but the team refused to say if or how his injuries would affect his performance in the Tour de France.
?It?s too early to make any predictions or know if he?s lost the Tour. He?ll undergo detailed examinations and we?ll wait for tomorrow (Friday) morning to make a precise prediction for the rest of the race,? team manager Marc Biver said on Thursday night.
In the past when a major contender crashed or punctured, the other favourites would refuse to race and wait for their rival to get back on. Not anymore. All the leading teams continued to race hard on the final climb, leaving Vino to chase with his team and then desperately on his own.
"It's a pity no one slowed for Vinokourov. There used to be respect for the champions of the sport. Maybe that respect is gone,? stage winner Filippo Pozzato pointed out.
Click here to watch video highlights of stage five.
Thank you for reading 20 articles this month* Join now for unlimited access
Enjoy your first month for just £1 / $1 / €1
*Read 5 free articles per month without a subscription
Join now for unlimited access
Try first month for just £1 / $1 / €1