Virtual reality, LSD and some finely crafted bikes (video)
We pick the highlights and talk to their creators in this video tour of London's urban cycling show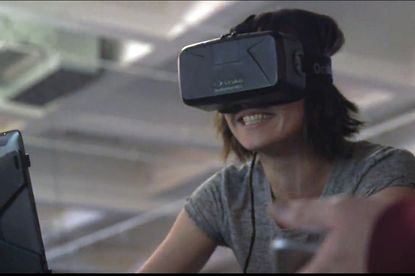 Technical innovators and artisan bike builders descended on Bloomsbury last weekend to show off their designs and innovations at the Spin London show.
The Ebove virtual reality cycling simulator was one of the highlights of the three-day event, which specifically focuses on the urban cycling experience.
The simulator's developer's Activetainment is preparing to take the system to market, hoping to revolutionise cycling-based workouts in gyms.
"We're trying to make the indoor cycling experience more like the outdoor by bringing in elements from gaming, virtual reality and combining them with the fitness experience," explains co-founder Jan-Arild Svello in Cycling Weekly's exclusive video from the show.
"What we have is a bike that moves according to the terrain you see on screen… because of the instability, you have to use your core muscles, [so] you get a better training effect."
>>> Bad weather comes to your turbo training (video)
There was a fine selection of exquisitely crafted cycles also on display, from the fluid pipe-work of Estonian company Viks to wooden bikes by Coh&co, which borrow from boat building knowhow and maintain an intimate connection to the tree they were sourced from.
Some of the most spectacular bikes were presented by Velowland, a Dutch company that produce some incredibly intricate finishing work, including an aluminium and carbon track bike finely painted in a remarkable woodgrain effect.
"It's a technique that originally comes from Dutch churches," says artist Frank Everhardus of his handiwork.
Artistry is a factor than Spin London particularly defines itself by, and one corner of the show was given over to cycling inspired prints and illustrations.
Meanwhile, downstairs meanwhile in the old sorting office — a new venue for 2015 — the test track saw everything from tall bikes, folding tandems and Mike Burrows' latest recumbent offering being taken for a spin.
Our video takes a tour of the show and introduces some of the craftsmen bringing their artistry to the two-wheeled world.
More information: Ebove, Viks, Coh&co, Velowland, Pol Sifter
Thank you for reading 20 articles this month* Join now for unlimited access
Enjoy your first month for just £1 / $1 / €1
*Read 5 free articles per month without a subscription
Join now for unlimited access
Try first month for just £1 / $1 / €1