WIGGINS BEGINS COUNTDOWN TO BEIJING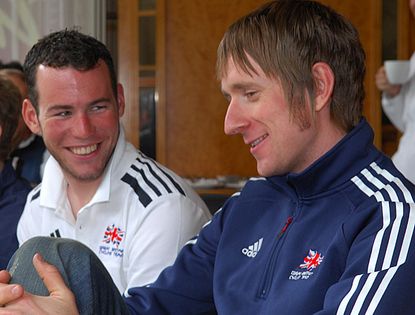 Bradley Wiggins will kick off his countdown to the Beijing Olympics with an appearance at the Revolution event on November 17.
A couple of days later he?ll head to Ghent to ride the Six-Day with Mark Cavendish ? hinting that the pair may become partners for the Madison in China next August.
Wiggins, who recently signed for Cavendish?s T-Mobile team, is one of the few Great Britain track riders who has not headed to Australia for the training camp.
Instead he will race on the boards as often as possible in the build-up to the World Championships in Manchester in March ? although he won?t be riding the World Cups because they clash with his road commitments.
?I?m basically trying to replicate the Australian training camp which a lot of the other Great Britain riders are on. I?m doing three long sessions a week,? he said. ?I won?t be doing any of the World Cups so races like Revolution and Ghent will be perfect for me as part of my training and preparation.?
Revolution at Manchester Velodrome will be his first major appearance on the track since the World Championships. Then he?ll pair up with Cavendish in Ghent. Wiggins has won there before, when he partnered Matthew Gilmore to victory in 2003.
?I?ve never ridden with Mark before so it will provide some important technical experience. The plan will be to keep out of trouble and get some good racing experience together.
REVOLUTION 18
Saturday, November 17 ? Manchester Velodrome
Also starring? World points champion Juan Llaneras of Spain, World Madison champion Franco Marvulli, 2006 World points champion Peter Schep, winner of the recent Amsterdam Six, Iljo Keisse.
How much? Adults £10, Children and OAPs £5; Family tickets (two adults, two children) £25.
Ticket lines: 0845 686 0105 or 0161 223 2244
On the web: www.cyclingrevolution.com
GHENT SIX
See Cycling Weekly?s feature?
WORLD TRACK CHAMPIONSHIPS
March 26-30, 2008 ? Manchester Velodrome
On the web: www.worldtrackcycling.com
PICTURE: Wiggins and Cavendish - team-mates at British Cycling and now T-Mobile by Andy Jones
Thank you for reading 20 articles this month* Join now for unlimited access
Enjoy your first month for just £1 / $1 / €1
*Read 5 free articles per month without a subscription
Join now for unlimited access
Try first month for just £1 / $1 / €1