Wiggle denies jersey 'plagiarism'
"No designer employed by us (directly or indirectly) has broken any of our policies or, more importantly, contravened our values," says retailer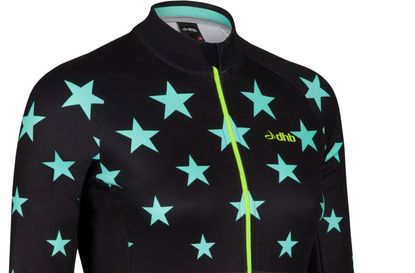 Online retailer Wiggle has denied accusations that it had plagiarised designs for a new jersey in its in-house dhb range.
TV presenter and designer Anna Glowinski took to social media last Friday (October 24) to claim that Wiggle had unfairly copied her designs to create its Blok Superstar Long Sleeve Jersey.
In a statement (opens in new tab), Wiggle said it took the allegations "very seriously", but concluded after an internal investigation that "no plagiarism has occurred and that no designer employed by us (directly or indirectly) has broken any of our policies or, more importantly, contravened our values".
In the statement, the Portsmouth-based company gave a detailed timeline of its interactions with Glowinski. The statement says that Glowinski met members of its cycle clothing buying team in January 2013, but declined to take her designs some months later. It added that although there had been discussions about working together subsequent to that, no further designs had been exchanged.
Wiggle says that the Blok Superstar jersey was the product of designers working separately from the buying team. On this point Wiggle states: "our London based dhb Design team were independently working on our Autumn/Winter 2014 range, including our 'Superstar' Jersey. We register the intellectual property of all of our designs and to do this must save all of the 'inspiration materials' and initial 'draft designs'. We can confirm with confidence by reviewing this audit trail, that the dhb Design team had no knowledge of any conversation with Anna Glowinski, nor any sight of her designs."
The statement added: "the inspiration for the Superstar Jersey (and indeed the other designs in our dhb Blok range, which it forms part of) involved many influences, including national flags and jockey jerseys – absolutely none of which could be traced from AnaNichoola or Anna Glowinski."
Wiggle concluded by saying, "We appreciate that the coincidence of the designs might have been puzzling for her, though there are so many designs in the marketplace today that it is unsurprising that these similarities coincidently appear from time to time. We wish Anna every success in her new endeavours."
Thank you for reading 10 articles this month* Join now for unlimited access
Enjoy your first month for just £1 / $1 / €1
*Read 5 free articles per month without a subscription
Join now for unlimited access
Try first month for just £1 / $1 / €1
Jack Elton-Walters hails from the Isle of Wight, and would be quick to tell anyone that it's his favourite place to ride. He has covered a varied range of topics for Cycling Weekly, producing articles focusing on tech, professional racing as well as cycling culture. He moved on to work for Cyclist Magazine in 2017 where he stayed for four years until going freelance. He now returns to Cycling Weekly from time-to-time to cover racing and write longer features for print and online. He is not responsible for misspelled titles on box outs